Grocery App Development
Do you have a grocery shop and want to grow your business online then why not engage your grocery shopper with your Grocery Shopping App.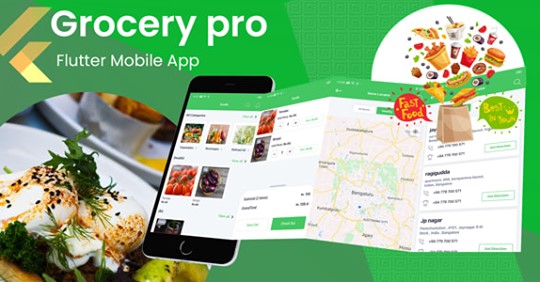 Grow Your Business Reach And Revenue With A "Grocery App":
There were a time when we used to make an advance list of grocery or daily use products that we required, then we have to schedule a time and date to go grocery or supermarket near by us where we got the best deal and products on one place, spend our valuable time to pick our grocery, getting packed, do billing and at last return back to our home while through our traffic and get tried and exhausted. There after if we left something then again we have to go for another visit to grocery store and went through all process.
But, Now time is different. Today world internet and apps have completely change the scenario and process of shopping. Now we just have to tap or open website in our mobile or system and start ordering and we got delivered our goods to our door steps while using grocery application and save our valuable time and tedious process that we usually do.
Because users want to change - to their shopping and brake down all the hustle that we have been facing with our traditional grocery store shopping. Now with the blend of Internet and app people saved their valuable time and energy.
So what you think? Now it your time to Build Your Grocery Customer Base With A " Grocery App":
Grow Your Customer/Users Base With A " Grocery Shopping App":
Ionicfirebaseapp.com helps you to brings your grocery stores and their shoppers on mobile and computer devices with our Grocery App Development expertise. We will help stores to build their valuable customer base while allowing your existing and app users to shop virtually at their availability and convenience and save their lot of time while making a list of items and come to shop do billing, packaging and carrying things.
While you are creating your own grocery shopping/store application, you can take benefit from this app paid mobile application; So, your shoppers will enjoy this application for a better shopping experience as per their convenient time and requirements.
App Functions:
Multiple Payment Options – Net Banking, Debit Cards/Credit Cards, Cash On Delivery, Mobile Wallets

Multiple Stores To Order From

Access To More Brands And Products

Price Comparison

Single Master List By Store Or Department

Membership Options

Single Master List By Store Or Department

Order Tracking

Advanced Search – To Search Particular Product

Easy Browsing

Order And Re-Order Without Making Lists Again

Delivery Schedule – Day And Time

Low Or No Delivery Cost

Avail Same Day Delivery
Provide Your Customers A New, Easy, Better, And Convenient Grocery Shopping Experience with your own grocery app.
You may check out our all kind of Readymade Grocery Store Shopping and delivery App System Demo
CUSTOMER APP
IOS APP: https://apps.apple.com/in/app/readymade-grocery-app/id1506920690
ANDROID:https://play.google.com/store/apps/details?id=com.ionicfirebaseapp.readymadegroceryuserapp
The world is moving with technologies, innovation, inspiration, and motivating factors. We have been seen around us over the mobile and computers through the internet where you are currently reading this article/content. And you will find that the end result really inspired you. Day-by-day the innovation and technologies leading our world with our personal as well as business growth.
If we saw around the world-leading businesses like Amazon, Apple, Facebook, LinkedIn, Microsoft, Twitter, YouTube, Google, and others they have been providing the real-life solution in a creative way to the world that make them be presentable and acceptable around the globe to be a successful company.
Now the present era or you may say that the internet and mobile era of the world. App (Solutions) and the internet have been providing free stuff to the world along with the business. Now the mobile and web app is a perfect blend with the internet that has been working very well and making business grow rapidly that we have never seen in old days or traditional businesses.
Now the world-recognized company doesn't have to fight for customers the internet world itself taking care of their businesses. For example, Ola, Uber, Bigbasket, PayTm, Groffers, Amazon, Alibaba, Google, Lyft, Flipkart, TikTok, Instagram, LinkedIn, and so on. All are providing free use app that has been used most by their users and making revenue for that company.
Why Choose our Grocery App Development Service?
Since we are an app and software development company we have been providing the best solution for app development. Our development team members are expertise to provide the best grocery delivery app. Even we have built our own product app marketplace where we have ready to use and/or on-demand grocery app that has been using by more than 500+ clients. So we have real-time case study and data user analysis that help us to provide the best UI of your app.
About us:
Ionicfirebaseapp is an advance and technology innovation Grocery Shopping App Development Company. Our team is expertise and depth knowledge to build enterprise/professional design and development. So, Are you looking for an app for advance and innovative solutions for your customer then you can choose us as a one-stop solution for everything?
What would be the Grocery App Development Cost
The one the most important factor even the first thing that came to your mind is what will be the grocery app development cost if you go with your own Grocery app development process. So the Grocery app development cost will depend on so many factors. But here we are going to point out some important factors that will help you out. Your requirement: The first factor will be what features do you looking for? The price will increase base on the number of features do you require. Company: Company is the most important factor for cost. If you hire a reputed company then their cost will higher than a startup company. Location: Cost will be also keeping varies based on your location too. e.g if you are from the USA then the cost will usually high if you compare it to India. Get a complete Grocery Store App For $4000 USD. Now you will get a cross-platform programming interface (for Android and iOS) just at $4000 USD. With this Grocery app, you will get a native app for both platforms. We also provide a super admin dashboard that helps you to manage and control your backend operation pretty well and in an easy way.
Case Study
Grow your business and customer base with own Grocery Store Mobile App.
Now these days B2C online business has been growing gradually and getting an enormous response by users/customer across the world. The best examples are Amazon, PayTm, Flipkart, Uber, Lyft and so on. One of the best and fast growing business model is eCommerce business. Specially in the urban household people love to get their order to their door steps instead of making a list to purchase the things, going for shopping, stand in line to do billing and travelling. They just tap their mobile phone or system and start ordering at their preferred places... Read More