How to build a Grocery App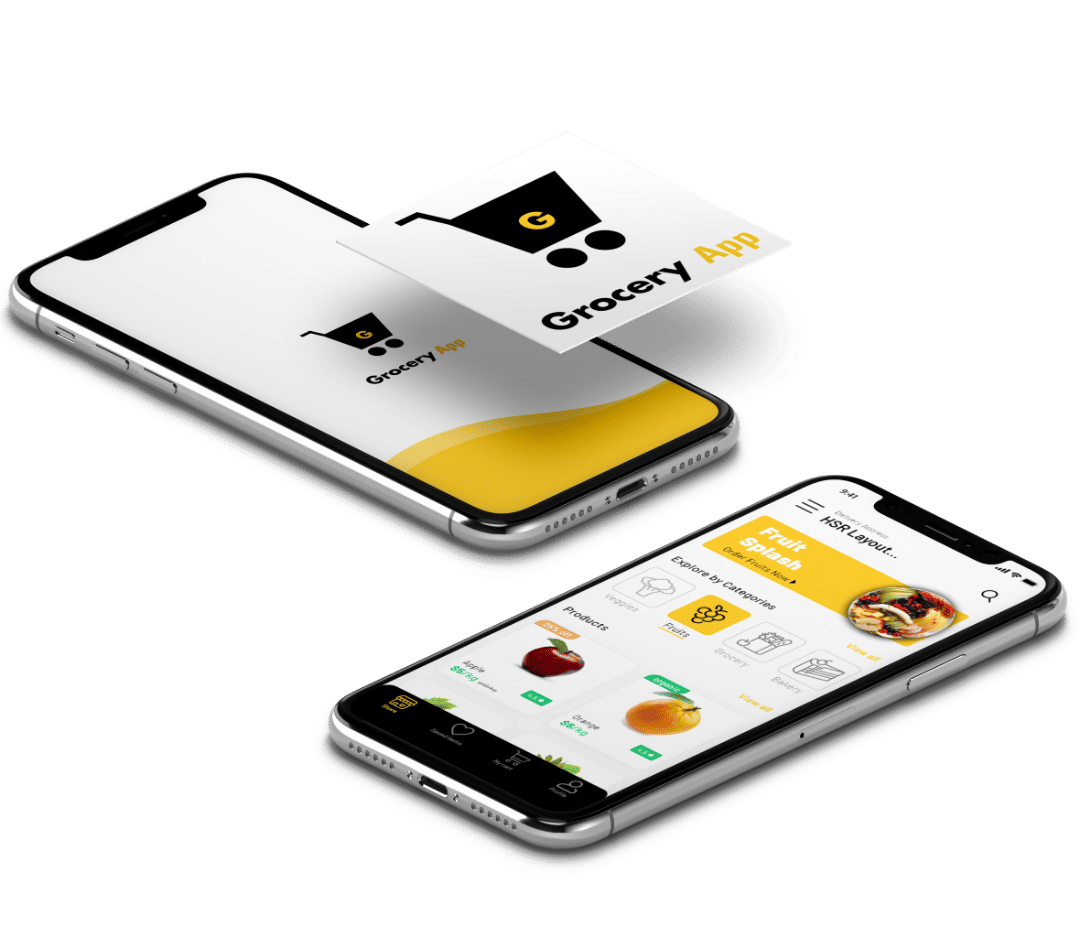 In the modern world, everybody is looking for good services. Everybody is looking for services delivered at the doorstep from food, clothing to grocery.
Grocery is an essential need. Looking at the current situation of COVID-19 and the development of technological advances, running errands has become simpler. Online food, grocery, finances, and car repair are available at your fingertips.
You name a service and there is an app for it. The on-demand grocery delivery app is one of the most demanded apps presently. Every shop today is online, the reason is- the customers are online, monetizing the app helps you earn more revenue, easy management of the profit and loss, and the list is long.
All this because of smartphones becoming handy and popular. Smartphones have made life easy and are making things accessible to every single being out there.
If you are still thinking of going online, building an app for your grocer store is the best most phenomenal decision you can make considering the scenario and need. Building an app is easy and free/affordable. Everything is available on the internet. And, this article will tell you how to build a grocery delivery app with Flutter.
Now we are going to talk about why and how to build a grocery app for your business in details. So if you are a grocery and/or supermarket business owner lets go step-by-step guide in details.
BENEFITS OF ONLINE GROCERY DELIVERY APP
One of the most import reason the growth of online order in Grocery items. Check out the below stats and some other important points.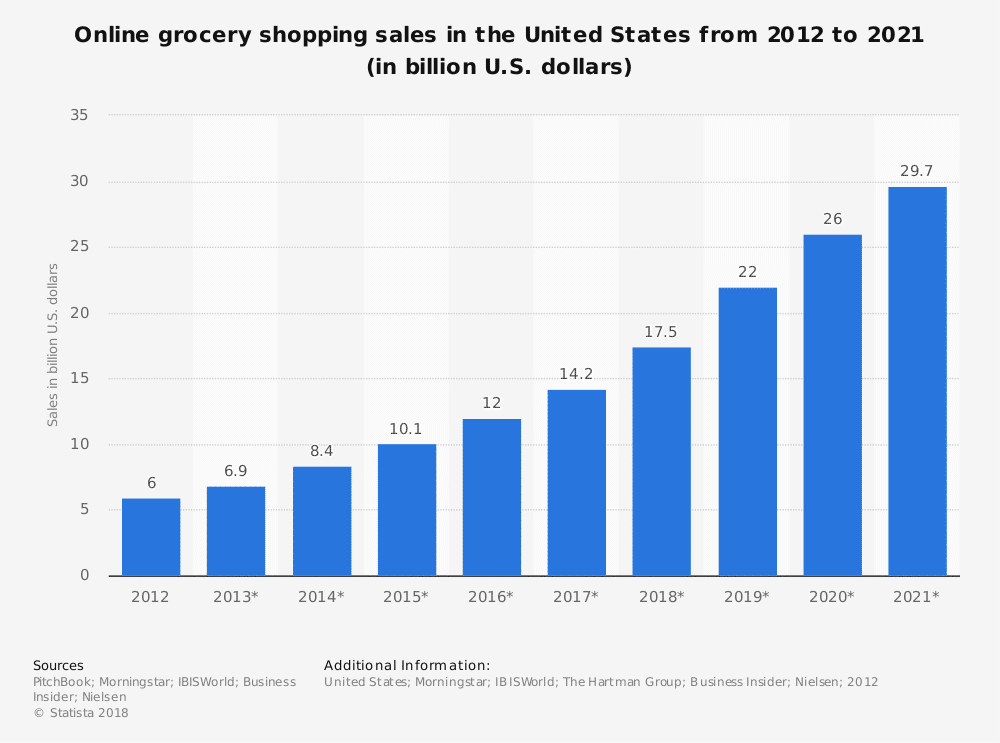 Benefitting both the buyer and seller. One can shop 24*7 from anywhere across the globe.
Feedback, reviews, ratings, and problems can be discussed and analyzed online.
One can track the order details, its process, seller's name, delivery time, and so on making it transparent.
Regular discounts, offers are never missed because of the push notifications. It attracts customers.
Flexible selection of choosing from multiple payment options.
Saves the time of buyers.
Provides exact details of items sold out, profit-made bestselling items.
Revenue earned through monetization of the app, shipping charges, sponsorship, and so on.
Why build a grocery app with Flutter?
The Google baby Flutter was launched in 2017. And, with the up-gradation of Flutter in Jan 2020, Google has again empowered Flutter to be a highly creative and engaging application. Flutter is a highly influential and extensible framework that brings along an infinite widget library to help you create an extensive cross-platform grocery app.
The reason you should invest in Flutter is,
Free and open to use
Single codebase framework for multiple platforms
Dart as a programming language
Hot reload and developers can see the code change easily
Improved performance of the native app
Use of custom widget library
Creates mobile apps for mobile, desktops, and web
Less testing compared to other frameworks
Attracts investors with MVP
Read more about the Flutter and Flutter development benefits, You can read this
https://www.ionicfirebaseapp.com/blogs/flutter-app-development/
How to develop a grocery app?
In the world of technological advancement, nothing is impossible.
Conceptualising
You need to have a clear idea as to how your grocery app would be different? Who would be your potential customers and which region would you cover? The reason? There are already uncountable grocery applications providing its services. So, how do you ensure your services stand out?
That is when you need to start building the process of development, conceptualizing, and understand the purpose that your app would do better. Make bullets on,
Does the market exist?
If yes, then who are your competitors? What do they lack?
Who will be your customers? Which region would you cover?
What features would you integrate?
What services or application features will help you stand out?
List down the queries and sketch the best application so, it simplifies your development process. Flutter is a code that helps you build a grocery app. But you need to sketch an app that simplifies not just the development process but also attracts more customers.
2. Selecting the Type of Online Grocery/Grocer Delivery App
There are multiple types of grocery business model apps. And, you need to select which one justifies your purpose.
Aggregator Business Model
This is a third-party integration grocery app. In the aggregator grocery app, all the local shop owners and customers meet to buy and sell the product. Once the order is confirmed, the live tracking can be done. In the aggregator grocery app, the local shop owners are solely responsible for managing their order, not you.
One can choose one product from a variety of stores without even stepping out. One can compare the price of the same product and check the ratings, and delivery date as well. One can add products from different shop owners and payout when they wish to.
This is the most common type of grocery app that flawlessly works.
Virtual Grocery Store of Your Supermarket
The app owners are responsible for everything possible. From managing orders confirmation to adding new products, adding banners of discounts, sales of the day to solving the query and collecting money. Unlike the aggregator business model grocery app, the app owners need to manage everything.
It is good for shop owners who wish to launch their brand. But aggregator is ideal if you wish to have your brand enlisting all the local shop owners and being free from the management of the app. The risk level is very low compared to the virtual grocery app.
The cost of developing a grocery app by Flutter mobile developing companies would be $10,00- $ 50,000 and it can go above that depending on various factors. If you are of the view as to how much would it cost to hire a flutter developing company? Then, think again and be ready with the prerequisites as stated in the point above.
3. Features that make your Grocery App stand out
Think of the best grocery app or any other shopping app you have used. What features of it did make you happy and satisfied? Note that down and try to add that in your application.
The other way to know the features that will make your grocery app the best is to know your competitors. Look at what they are doing, how are they doing? If they lack something, can you provide that service? If yes, then go ahead.
And, before you do anything explore the Grofers, Bigbasket, Amazon, and so on.
The best of developing an app with Flutter is that it has solutions to your problems in the simplest manner. Flutter provides you with the flexibility to customize the product browsing. It helps your customers choose a product depending upon several filters and make the final purchase.
The banners that speak about the sales or offers of the day might sound easy but are made easy with flutter. A homepage banner is essential as it attracts customers and highlights the latest products that have been added.
The other features that must be in your app are as follows.
Live chat – It helps customers post a query and get solutions from the shop owners quickly. It is the most thoughtful addition to your app. It acts as an assistance 24*7 and connects the buyer and seller more efficiently.
A small infographis that helps you get a short details.

Easy and Secure singup/Singin - You app should be user freidnly so user can signup easily and later on sign in easily as well as their data should be srcure. So you have to keep feaure something like opt verification, social media signup and others method that you think that will be eaiser for your customers.
Order History - The highlight of your app is the order history. It lets your customer know their order summary and they can repeat the order if they want. It gives good detail about the order.
Secure and Easy Payment Options – You can include as many payment options as you won't like, Cash on Delivery, Debit Card, Credit Card, Google Pay, PayPal, and much more.
Push Notifications – An essential feature that will help you remind your customers about all the offers, new products, and sales of the day. It allows you to connect with your customers and attract them to shop more.
Real–Time Order Tracking - One of the important features that need to be added is the live tracking of your product after the order confirmation. It helps one get a real-time estimation of the product delivery.
Add to Cart – It allows your customer to add products to the cart and pay when they are done shopping. It helps them continue shopping without any hassle and purchase after a long hour of continuous browsing.
Multiple Payment mode - Like online payment, Cash on delivery, and wallet payment so user will always have an option to choose from their convenience methods.
Live chat/Support - You should have end-end encrypted Live chat support system for your users so they can communicate if they face any kind of problem. Because customer support is one the most important factor to win businesses.
Offer and Coupon code - Your app should have be very clean UI ans a place where your current offers will be easly visible for your users without creating any difficulties in user experience. Sometimes people full of pages with offers and hide the products that might create negative impact user get back to other business app.
The above points are the basic and major point for your Grocery shopping app for users apart from that you have to make a list of your Grocery app backend, delivery app, and vendor apps requirements too. These are all as important as your user app.
If you have not make a figma or design for your complete online grocery delivery system and wondering what the best fit for your requirement then here you can check out some of our Readymade Grocery delivery apps. These apps are built based on the users requirement data. We collect max user requirement over the internet and make a common list of feature that have everyone and build these app that will fit for all kind of Grocer Store requirements as well as these grocer apps are fully customizable so you can customise as you would like too. These all apps built with Flutter.
Flutter with its extraordinary UI design improves your user experience. You can with Flutter programming language build an app that provides the end-user the best shopping experience.
How much does it cost to develop a flutter grocery app?
The basic development of an app includes,
Sketching an app feature
UI/UX designs
Front end development
Backend development
Production
Quality assurance
Choosing the programming language and so on.
All these things drastically affect your development cost excluding the cost of the developer's charges. The cost of developing an app is charged not just by how complex it or in which language will it be developed. But it depends on how many hours will it take to develop an app. In other words, the longer and complex the hours in developing the app the cost increases. Flutter cuts this to half and at times reduces it one-fourth of the price.
As discussed above, Flutter is an open-source, free-to-use platform. And, that means it drastically reduces your app development cost low and helps develop it faster.
Wondering how it affects the development cost?
Developer's expenses – hourly/monthly
Design and Development Cost
Testing and Deployment cost
No doubt there are thousands of options to choose from to develop an app. But Flutter, the Google baby has tremendously changed the game of developing an app. It is cost-effective, easy to use, rich in features, and free that enables one to use it as per their need. So, before you think of developing an app consider Flutter first.
If you still have a question and then feel to get in touch or come on the live chat.