Top 5 Best On-Demand Handyman Services Apps of 2022- 2023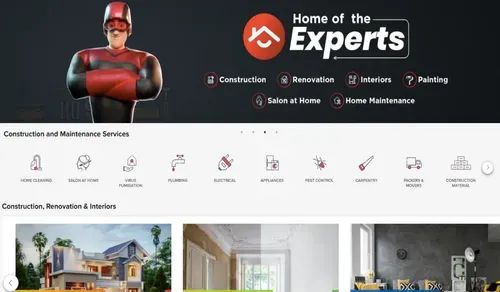 The on-demand handyman app is bridging the gap between the service provider and user without any hassle.
'We are almost profitable' said Gaurav the senior vice-president of growth and strategy of Housejoy. The home service app Housejoy has raised $30.2 million from investors like Amazon, Growth Story, Vertex Ventures, Matrix Partners, and Qualcomm.
The Urban Company started by three men in 2014 has a value of $480 million today. The home service apps developed with the idea of solving day-to-day problems are valued by millions now. It proves that businesses that provide solutions to the most common problems of customers will bloom with profit. In addition, trust is gained depending on the service quality.
Wondering how you can strive for the same? Let us dive deep into it through this blog.
How does an on-demand Handyman App Work?
Whether it's changing the faucet, cleaning your house, or disinfection, you can get this work completed without stepping out. How? The on-demand handyman app is your answer!
The home service app helps with the best service, reasonable rate, and efficient flow of the supply-demand gap.
The basic workflow of the home service apps,
The customer will log in to the home service app inserting the details like number, email Id, or can log in with social media Ids.

The customer has to add their location to avail of the service.

The customer then has to search/select the service one needs with the date and time.

The app displays the accurate charges for the service.

If the customer is satisfied with the charge, they can proceed and confirm the booking.

The professional will then show up at the exact time and location.

The payment mode could be any from cash to multiple online payment methods.

They can then provide ratings and reviews for the service taken.
What are the benefits of on-demand handyman apps?
Service at your doorstep
Saves time
Saves money (offers, discounts, and customer loyalty programs)
Increases accessibility
Multiple payments options
Easy search and hiring
Professional service provided
On-demand availability
The top 5 handyman apps you must have in 2022
The company founded in November 2014 is now valued at $480 million. The app empowers millions of skilled professionals and provides end-users with the best service.
You can book services like salon, cleaning, plumbing, carpentry, appliance repair, painting, and much more. It operates in 29 cities in India and has expanded to 5 countries so far. This is one of the best home service apps that bloomed in the pandemic because of its disinfection services being the prime focus.
It has served 5+ million customers and has billions of downloads.
Thumbtack offers 500 types of services in terms of Home, Wellness, Events, and Lessons. It was founded in 2008 and raised $1.2 million in 2010. Thumbtack allows one to check the review and rating of the service professional in advance. It is planning to explore more services and expand in different countries.
It also offers services like Photography, Design and Web, pet Services, and crafts to name a few apart from the daily chores services.
ZIMMBER
Zimmber is a home service app that was acquired by Quikr. The services include Cleaning, Driver on Demand, Salon at Home, Car Spa, Electrical Repair, and painting to name a few. It has complete home package deals for you to enjoy the discount.
TIMESAVERZ
Just as its name suggests, the service is guaranteed within 2 hours of its booking. It offers quality products, and equipment apart from those home services.
This home service app is the winner in the gig economy. With its service of 12 years, it has expanded to 47 US cities. The app is best known for its reasonable cost and reliability values.
Here's a Bonus Handyman app
AUTO I CARE
The top-rated app for on-demand car repair handy app. It provides its services 24*7 within 20 minutes in tier 1, 2, and 3 cities. It currently operates in 998 major cities. The service of car repair is much needed today and in demand.
Wondering how you can start a home service app?
The on-demand service apps are the need of the hour and provide healthy money. These apps are blooming from small to metro cities at a rapid speed because of their value-based service. It indeed is a great idea for startups to invest in.
For reference, you can check out the below infographics on how the on-demand home services market has been growing.
These apps might have the same service but it's the feature that sets them apart. In addition, its app performance and user experience are other factors that help in capturing the market.
If you are planning to start your business, then an on-demand home service app is the option to invest in and it is the right time to do so. The reason is that there are still a lot of potential customers not able to connect to the professionals and vice versa. The market of on-demand home services still has a lot of scope for growth and profit generation.
What should you consider before developing an on-demand home service app?
If you are ready to build, we can help with the procedure or even provide a clone of the app you want. But first, you need to understand the core problems that will be solved through your app. The main focus of your app has to offer quality service.
The core features that make your handyman app the best are,
Transparent pricing

Allows finding a handyman/professional nearby/local area

Live to track

Multiple payment methods

Scheduling the appointment

Customer loyalty programs

Offers, discounts, and coupons

Detail of the handyman (rating and review included)
How are on-demand handyman apps benefiting start-ups?
If you are wondering about the benefits you might receive with on-demand service apps then here is the top benefit your start-up would receive,
You get to work as per your availability

High profits and revenue with its increasing demand

Easy management of the business through the dashboard

Low start-up cost, if you already have the tools

Franchise opportunities are available

You can decide your niche and focus on any one commercial and residential services

Can be considered a part-time business

Opens up multiple revenue options like appointment and convenience fees, onboarding fees, and ads generated on your app

Businesses becoming brand and easy lead generation

Service provider paid with 72 hours of the service
Now, that you know the benefits and main features of the on-demand handyman app. You need to have a clear answer to the following questions.
What are the features that you would include in your MVP?

What technology will you use or will be best suited for the on-demand handyman app?

What is the cost of developing an on-demand handyman app?

How much time will developing an on-demand handyman app take?
What are all the features that should be there to build an MVP?
To get a basic on-demand handyman app your app must have three applications.
Admin dashboard/management
Professional Panel
User panel/Customer panel
On-Demand Handyman Services app Admin Panel
As an owner, you get to manage the panel of both customers and professionals. It is easy to access and customize as per your needs. This is a control panel of all the content you will put on the interface.
Admin Panel Features
Booking management
Cancellation details
Manage notification
Manage discounts and offers
Site management
Manage customers and professionals
Earning reports
Managing the service category and much more
Professional Panel
The professional panel is for the service provider. It helps them get notified of each service request and manage their daily routine. It also shows the earnings per day, week, and month.
Professional Panel Features
Add/Edit personal details
Earning report
Payout method
Service requests - Accept or cancel a service request
Service history
Handyman User App Panel:
The user panel is for the end-user. It has a different template compared to the first two. It lets the customer choose the request, get notified about the offers and loyalty points, and much more. It is much easier to navigate and order services.
Handyman App User Panel Feature:
Easy log in
Fare estimation
Search/Select service
Multiple payment options
Rate and review
Request history
Loyalty points
What technology will be best suited for the on-demand handyman app?
The top leading framework for developing cross-platform mobile applications is in plethora. We give top leading frameworks developers should choose from.
Flutter:
Flutter has to be on the top. The Google baby launched about five years ago and has made life easy for developers with its single code base. It is used by Google, eBay, BMW, and many MNCs for fast performance. It is preferred by start-ups as it's free and offers an effortless development process. Its widget library has infinite resources.
The Dart programming language offers a versatile framework. The application is widely used for its fast performance and high-reactive community.
React Native:
React Native serves as an ideal choice for developing a basic website. Its applications offer a quick response to the customers. The reason is that its built-in API components make the task seamless. It helps in building an operating system, filling all the gaps. Facebook and Walmart use React Native for its easy processing.
Ionic Framework:
EA Games and Airbus use the framework of Ionic that uses JavaScript, Angular, React, and HTML for quick development. With Ionic your coding never goes wrong, developers have an infinite number of tools and plugins to choose from. One can also leverage the SaaS user interface application to gain various access to operating systems.
You can also choose frameworks like Xamarin, Native script, Titanium, and Adobe PhoneGap.
FAQs:
What will it cost to develop an on-demand home service app?
Building a basic featured app like an urban company will cost you between $10,000 to $30,000. And, building a highly advanced featured app, will cost you between $50,000 to $80,000.
The cost may vary depending on the platforms you wish to target, the technology you use, and the developers you hire to develop the app. The cost varies depending on the hour invested in building it. The time varies as per its specifications, functionality, and cross-platform single platform compatibility.
How much time will developing an on-demand handyman app take?
The time of developing the on-demand service depends on various factors. It depends on the technology, specifications, device compatibility, and so on. It probably takes about 7-8 weeks and goes up to around 20-24 weeks depending on several factors.
Are you looking to start the on-demand home service app? We have an offer for you!
Provide the world with easy access to what seems impossible. We will assist you in developing an app for it. We are equipped with highly trained professionals who are passionate about apps and their development. Join us and let us bring a change together.