How is Mobile Apps Transforming Businesses Today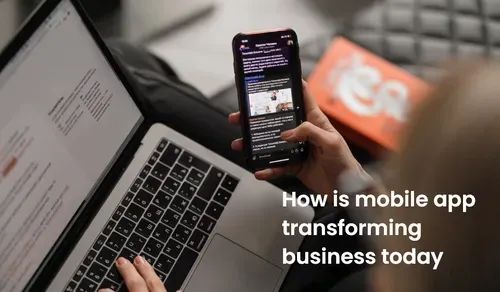 There is no surprise to the fact that mobile apps in substantial amounts have benefitted businesses globally. And, this led to its incredible popularity among service providers and receivers. Today for every problem, we have an app, your car broke down? On-demand Car Repairing App; Don't have enough time to run to the grocery store? On-demand Grocery Apps; Need to fix the taps? On-demand Home Service App; and Need to create a schedule for yourself? - On-demand To-Do App. The mobile applications business model has acquired each field with an effective as well as an innovative solution. Wondering how? Well, it's just 2 things – Mobile Application Business Plan & Selection of the Right Software Development Industry. At the present time, the whole world is checking out new apps and ads on their smartphones. So, if you are not visible to them you are losing a lot. There are so many active users on YouTube, Instagram, Facebook, LinkedIn and you name the app. Did they see what you offer? No, then you need to rush and get online, soon. Okay! Let's get into answering the question as to Why you need mobile apps and How it is transforming business growth.
Why digital transformation?
Apart from its market size value of USD 79.8 billion in 2020 which is expected to generate revenue of USD 337.8 billion by 2027, digital transformation has a lot to offer. It is merely not the process of enhancing the utilization of technology in any firm. Instead, it has a lot more benefits than its connotative meaning. It improves the productivity of both employees' and customers' experiences. In other words, it adds value to your business. It helps businesses create new business models and new products. It brings an evident change in how you operate your business and deliver value to customers. According to research businesses indulging in digital transformation/mobility of business are 23% more profitable than those who don't. Mobile apps increase your efficiency by 40% and develop the ability to meet your customer's expectations by about 35% overall. It assists you to understand your potential customer, competitors, and the market. 1. Enables data-driven decision-making 2. Ensures security 3. Enhances the process of your business by automating manual tasks 4. Improves productivity 5. Improves customer experience 6. Provides flexibility
Why do you need mobile apps?
You have to understand that no matter how small or big your business is, you have to make your presence online.
Visibility
With billions of mobiles being sold out each year, it becomes prominent that your potential targeted audience is on their mobile. Reaching them in a space that is convenient to them ensures your conversion rate and visibility. It also ensures reaching your audience at a particular time, reminding them of your problem-solving techniques and various services at a consistent speed. You need to make your presence and visibility by constantly engaging with the customers. It helps in establishing your brand name.
Marketing Tool
Totally prevents you from using the traditional methods of marketing strategies. Works towards saving both money and the ecosystem. You can, instead of the brochure, newspaper ads, and pamphlets now engage with push notifications, and banners on your apps. You can run various contests on different social media for greater engagement and easy access for grabbing the offer. You get to understand your audience and which platform they are in; you can engage with content and play along with them. You can provide information on social media that helps you connect better. The social media engagement, push notification, loyalty points and banners of the apps improve your product sales & increase revenue. You can use various marketing tools that help you schedule posts in advance.
Customer Loyalty
Surprised? Well, don't be! This is the most attractive way the mobile app has transformed the business models. The mobile apps have chatbots that allow customers to interact with customer service anytime for guidance or support. This interaction satisfies the customers and influences them to be loyal. As talked previously about social media and push notifications are other features that highly impact your customers. It seems personalized and creates visibility to your customers improving loyalty apart from discounts given to them.
Customer Service
A good customer searches for support and guidance and these mobile apps provide it 24*7. Adding the feedback service informs you about the pain points of the customer helping you improve. It ensures a great customer experience.
Knowing Your Customer
Why would you miss any update of this sort? Gathering information is a heavy task, be it online or offline. But 0n-demand marketing apps make it easy with,
Your interaction
Social media engagement
Mobile apps specifying best sellers
Engagement of offers and loyalty points and much more Accessing your customer's behavior and preferences helps you reach out to them with more engaging marketing concepts. And, isn't knowing your customer the best way to sell?
Mobile apps in 2020 - Example
Mobile apps in the past few years and most importantly in 2020 have proven their importance for nearly every business. It helped the business survive to a significant extent and that is undeniable. The reason is the easy accessibility that one gets on the mobile. With its rapid growth, there is no slowing hint seen in the coming years. The mobile apps provide businesses leveraging growth, 1. Increases efficiency and productivity of the workforce 2. Adds flexibility 3. Simplifies remote work 4. Better connectivity and communication 5. Less paperwork, 6. Saving time and cost 7. Easy goal achievement, etc. The accessibility is not just to customers but for you too. With the mobile apps admin dashboard, you can manage all the actions from remote areas. That sounds amazing, right? It provides an easy workforce and increases efficiency, productivity, and cuts on the investment you had to make to show your visibility. It provides you with easy access to increment in ROI, lead generation, and managing a business workforce.
How are mobile apps transforming business growth?
Let us understand this with the help of some live examples. Urban Company an on-demand home service app founded in 2014 generated about US$29.29 million in 2020. Dominos, whose outlet was found everywhere, increased its sales by about 40% by collaborating with several on-demand food apps and launching its own app. Grocery shopping, which seemed to be a tiring job, is enjoyed by people today, how? Grofers, Jiomart, Amazon, and Flipkart have allowed many local shopkeepers to collaborate. Many shops have their own app that helps them earn extra revenue. Lifestyle, Nike Fit are examples of shops turning toward digital transformation. It enables customers to save time, grab offers and communicate their issues without traveling. The mobile apps provide personalized solutions. In addition, you get a targeted audience visiting your profile. You can study the behavior of your customers and work accordingly. The simple ways to earn from your mobile applications,
Sponsorship
Referral Marketing
Selling Merchandise
In-app advertising
Upgrades/Premium services
Add-on services
Online games Mobile applications have taken an evident role in our lives and most importantly in the market today. Even customers expect an on-demand of the business as it makes their life easy too. You can't deny the benefits it brings along for the receiver and giver, be it any industry. So, if you haven't availed yourself of the benefit of the mobile apps do it now! Are you looking for digital transformation for your business? Connect with or browse our free templates.