On-Demand Car Repairing App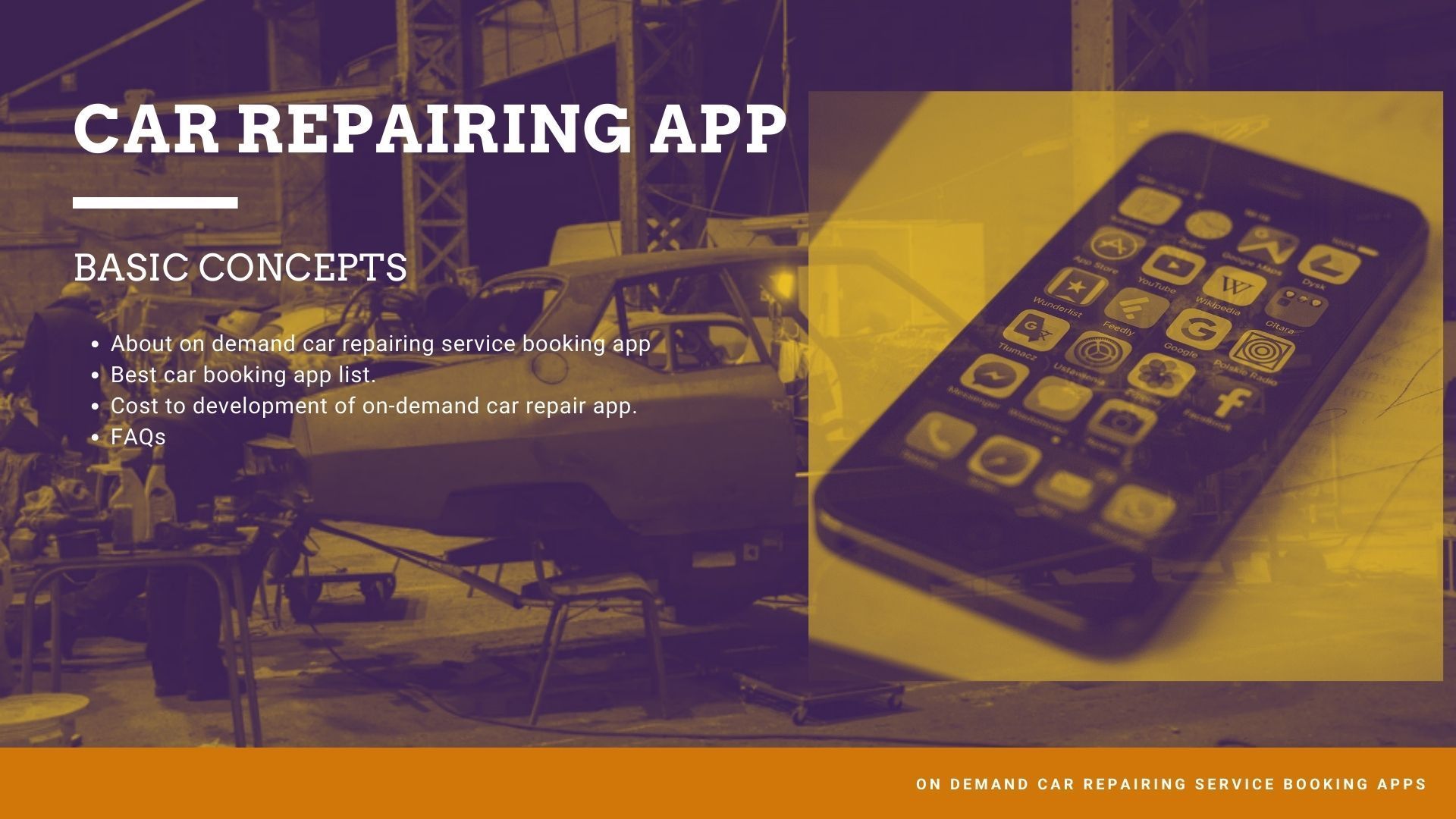 Today as the problem strikes, we immediately look for on-demand services online. Hence, the on-demand car repairing app is one of the best services availed with its needs arising rapidly. A daily problem tackled in an innovative manner.
Given that we are in a rush every hour we have no time for minute things and car maintenance becomes a headache. Though it may seem like an extra work but car maintenance is important as any other work considering how easy it makes our life. These on-demand car repairing app is what comes in role. It provides you a reminder for monthly services, fuel consumption, expenses and you name it.
We listed down top 5 car repairing apps that you cannot miss on.
The Workflow of On-demand Car Repairing App
The workflow of the on-demand car repairing app is like any other handyman man,
Easy login with details like number and email ids
Select the car model
Select the service needed
The customer gets the service charge pop up
Confirms the booking (that pops up after the fare)
The mechanic reaches the customer
Payment confirmed
Features of the On-demand Car Repairing App
There are few basic features that an on-demand car repairing app must-have.
Live Tracking
Car Owner, Mechanic, and Admin Dashboard
Advanced Search Filters (type of service, scheduling, mechanic's information, etc.)
Multi Payment Options
Transparent pricing
Service History
In-app Wallet
Multilingual
Chatbot
Easy Navigation
Secure payments
Top 5 On-demand Car Repairing Apps
AUTO i CARE- Best 24hr Car Service & Repair App
Auto I Care is the largest network for care breakdown and repair services in India. It provides support 24*7 services through WhatsApp chat or call.
The service provided is in about 20 minutes in tier 1 and tier 2 cities and 30 minutes in tier 3 cities. It has covered 998 cities with 18000 local car workshops. It truly has an impeccable service given for car breakdown, electric failure, mechanical failure, accidental support, and much more. In addition, it helps you with car parking space in tier 1 cities
It provides the solution for domestic and European vehicles. It is the top-rated on-demand car repairing app providing a one-tap solution for all.
Pitstop- Doorstep Car Repair & Service App
Pitstop is another most trusted on-demand car repairing app. It ensures guaranteed service with the least amount of time. It gives the pickup and drops quality service as its goal.
Currently operated in 9 cities, it has made its grip in the market in no time. It also offers 40% savings compared to the authorized service stations. It provides its service 24*7 with 100% original and genuine spare parts.
Carefer- Car Maintenance App & Damage Repair
If your car broke down of nowhere, met with an accident, or needs a monthly service, Carefer has to be your go-to app. The app helps you with its service at the location of the client. It has collaboration with trusted and certified repair stations letting you every detail.
RepairBuddy Vehicle Repair App
One of the best on-demand car repairing apps that assist you. It does it by accessing all our OEM information that is needed to maintain the car engine in good health.
It assists you with car repairing with beautiful diagrams in a detailed manner. Helping you learn, isn't it amazing?
GoMechanic – Car Services, Battery & Tyres  
GoMechanic provides 100+ services at the most reasonable price you can think of. It assists 24*7 and has collaboration with 350+ car service centers in major cities.
It offers services like denting & painting, car battery, car glass & custom service, SOS Emergency Services, etc. It even helps you with car insurance claims providing you real-time updates.
These apps have opened a very convenient different gateway for a better lifestyle. It helps with saving repairing costs and generating employment. In the fast pace world getting services on-time about things that you are least bothered about is a blessing. On-demand repairing apps have in real terms provided the best
Top 5 on-demand car maintenance apps
During the breakdown or being stuck out of a car battery what we regret is not caring about the car's health. The car services are often overlooked and handbooks are not of any help in the true sense.
Car health is essential as it saves us from the unasked repairing cost and from being stuck at nowhere calling friends for help. Well, that is when we realize the need for the car's engine health and service date passed. So, instead of maintaining a diary, why not let an app do it all.
Yes! There are apps that in a true sense look after your app's services from service date to oil changing and expenditure per week/month. Sounds great, right?
Let's explore the top 5 car maintenance apps that help us in making life easier for car repair and maintenance.
Car Repair
An app that gives you a spreadsheet with details about expenditure on insurance, fuel, services, parking. It definitely tracks your fuel mileage, sends reminders about oil change, tracks monitor maintenance, and so on.
One of the best apps that track your car engine health and your expenses.
CARFAX
The on-demand app for monitoring and tracking regular maintenance. This app reminds you about your registration is coming due. It helps you locate local repair shops with price Comparisons. The app can manage track of about 5 vehicles, at one single time.
AUTOsist  
Apart from your car, it helps you with your airplane and boats as well. It produces reports about your car, stores report, tracks the fuel maintenance, and provides you a pdf of it. It even provides you the service when you want to sell your car.
Car Problems and Repair
The apps that assist you like a friend. It tells you about the mechanical and electrical work in detail. Moreover, it sends you a reminder with the diagnosis of the car before you get into any trouble. If you can't keep a track of your car repairs and maintenance download them right away.
Works for all types of vehicles.
Torque
Cannot emphasize how essential our vehicle to us especially if you own a car. And, you really can't afford to miss this on-demand car repairing app. It assists you to assist set-up your dashboard with all your favorite gauges. It even allows you to export the map/track log files to Google Earth KML/CSV with cost-effective methods.
Take advantage of these apps that help you save time, money and lets you know the diagnosis of fuel and engine beforehand. Avail the advantage of these on-demand car apps and live life hassle-free.
All may seem to offer the same feature but it is the interface that creates a huge difference.
Are you looking to create an on-demand app lie car repairing app? Look no further and connect with us for free consultants at ionicfirebaseapp.com.
You can also look for the demo created and buy the readymade on-demand apps from our website.
FAQs
Q. What is the essential feature for car repairing app?
Ans: The essential feature of a on demand car repairing app are – Live tracking, Live Tracking, Car Owner, Mechanic, and Admin Dashboard, Advanced Search Filters (type of service, scheduling, mechanic's information, etc.), Multi Payment Options, In-app Wallet, Chatbot, Service History and so on.
Q. What is the best website for car repairing app at home?
Ans: The best website for on-demand car repairing app is Repair Pal, Zonnett, Cartisan, MeriCAR, alldata, Pitshop, and many more.
Q. Is on-demand car repair business profitable?
Ans: Yes, like any other on-demand service app, on-demand car repairing app is profitable too. The car industry grows every month, and this leads to profit addition in your app. From providing the service of engine repairing to spare parts sell, the on-demand car repairing app serves you in multiple ways to earn money.
Q. What is the cost of developing on demand car repairing mobile apps?
Ans: If calculated on an average, the basic on-demand car repairing app will cost around $24,000 to $91,000. It though depends on factors like the specifications, reliability, technical stack, developers involved. Whereas buying a readymade app might cost you less.
Q. Which technology should one choose for developing the on-demand car repairing app?
Ans: It totally depends on your specifications but Flutter is the best cost-effective tech stack for developing on-demand car repairing apps.