The Top 10 Grocery Shopping App of 2020-2021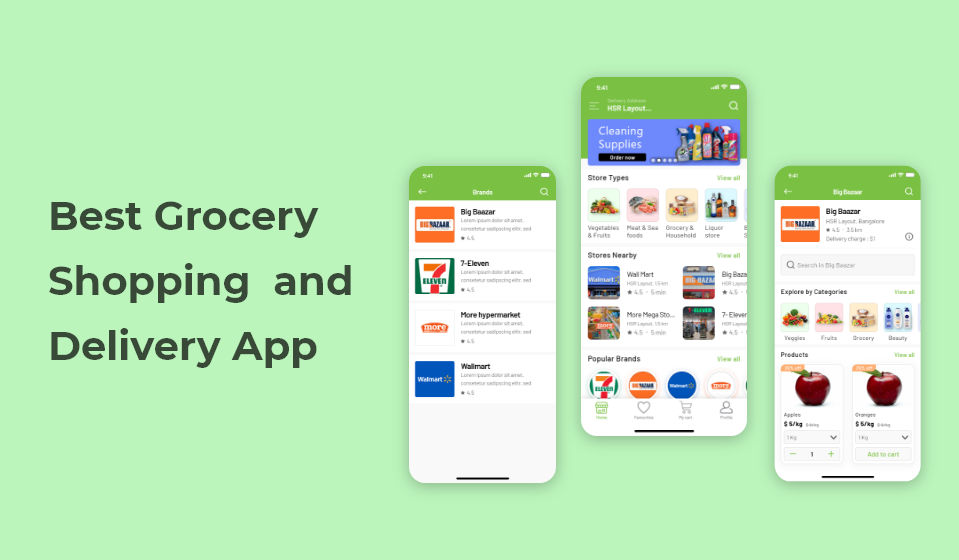 A weekly or monthly trip that you need to go to but hate is to your grocery store. You make a list of items everyone needs either in your head or on a piece of paper. And, keep on looking for the same in the entire supermarket or ask the general storeman. You then keep wandering around aimlessly finding the exact product but come home with some alternative or plan to visit another supermarket for it. Keeping all the items in your memory and checking their nutrient value, price offers even sounds tiresome. Thanks to these online shopping apps that have given immense relief to everyone.  
In the era of the internet, everyone is just a click away! No doubt, mobile applications have evolved and increased the economy, and the best example of online eCommerce is these Grocery Shopping Apps. One can order fruits, fresh vegetables to luxurious grocery items. It allows one to check the products, ingredients, rating by other consumer, nutrients value, running offers, and delivery time. You get to share the list on the same platform so, no running around writing down the list and asking each member according to their time. You share the list virtually, and they get to make changes as per the want, aren't online grocery shopping apps amazing?
Now, in an era where every work is done through mobile apps, who would not appreciate the efforts these mobile app developers and companies are doing to reach their customers and providing the coolest service ever with uncompromised quality products. Let us see why this grocery shopping and delivery apps have come in demand today. Also, how are they making our daily life easy?  
Features that make Grocery Apps amazing:
Shop at your convenience:
We all have faced it. Unwillingly wandering in the supermarket sections or requesting the grocery shopkeeper to deliver the products on time or give us exact product. Scheduling your monthly or weekly visit to the grocery store also is a headache but the need of the hour. Online Grocery shopping brings relief after a tiring day and saves time, on creating space every month/week to visit the grocery store. You get to shop anytime, anywhere by any means, and on any platform.
All you need is to spare is a little time to create the list once.  
Category-based search:
The coolest feature that has made daily life easy and convenient is letting you shop from the thousands of variants available. One can filter or sort the product by putting their preference in the section. And, there you have the desired products!
From lipstick to dairy products, and fresh farm vegetables, everything is available on one single platform. So, no running around various sections or stores for finding the product.    
Easy Payments Options:
The online grocery apps offer easy and quick payment options. These apps offer cash back, loyalty points, and a few promo codes to their customers instantly. One can make the payment through any means, net banking, PayPal, COD, or debit cards. The options are endless attracts customers.    
Offers and Coupons Availability:
You get to see the banners, push-up notifications, and even promo codes when you open the app or pay the bill. These apps offer great deals, and you get to buy things instantly and not miss like you did while not visiting the supermarket on time.
Saving Time:
The hectic and tiresome part of grocery shopping has to be those traffic jams, and these online grocery shopping apps are doing justice to what it means shopping online, saving time! You get groceries delivered to your doorstep according to your preferred time.  
Order History:
One can't deny how helpful these order histories are. You get to order the same from that history list, check the discounts you just grabbed, or how much the price has increased. There is no hassle of writing the list on a piece of paper and preserving the same for future reference. The list created once automatically is saved with time and date.
Instant Chat And Support:
You get to chat online about any issue that you face and not rush to the supermarket or grocery store. Even you get calls from the customer care.  
Easy refund and Return:
The prominent feature that has made these apps on demand is the easy refund and return policy. You don't need to rush to the store or mall. Instead, the delivery boy will arrive at your doorstep if there is any return or exchange service you require. It saves your time and energy of visiting the store with each issue.
The top 10 grocery shopping apps:
Big Basket:
One of the most profound online supermarket apps is Big Basket. This online grocery shopping app brings the whole supermarket in your just a click. It has around 10,000+ products from nail paint to curd and farm-fresh vegetables. It offers discounts, coupons, and offers from signing as a new member to making the payment as a regular member.    
Currently, the app offers a facility of food and grocery delivery in 20+ Indian cities. The main features are as follows.  
10k+ product available
Easy user accessibility
Easy payment methods
Runs on cross-platform
Facility available in 20+ cities
2. Grofers:
The best and the most demanded grocery app in India. Offering the minimum features of an online shopping app like category-based search, easy payment options, and offers, coupons and discounts regularly. The best add on features are six languages, in-app chat, and e-wallet.
Available in 20+ cities
100% return and exchange policy
Easy search options
Search in six languages
E-wallet payment options
Cashback on delivery slots
3. Amazon Pantry:
This is one of the prominent shopping apps known worldwide. The online shopping app offered by Amazon has amazing features of the category search, various payment modes, with the low shipping charge, regular discounts, and offers with prompt delivery makes it the ultimate user-experience.
Easy mode of search
Admin chat available
Various payment mode
Easy to exchange and refund options
Countless category-based search
Works on iOS and Android
4. Flipkart Supermarket
The largest and one of the leading eCommerce online grocery shopping app is offered by Flipkart Supermarket. This supermarket app is giving the best user experience. has a large number of competitors and is constantly is improving its product list and provides exclusive offers to its customer. Flipkart grocery app is new and offers multiple products by giving offers like' Big Billion Sale' and giving products at the lowest price that is Rs.1.
Fast delivery
Easy search options
Multiple payments options
Expanding its business in tier-2 cities like its competitors Amazon, Grofers
Thousands of products to browse
Cross-platform functionality
Nature's Basket:
Another name in the top list of online grocery shopping app is Godrej's Nature's Basket in India. Though the company started the grocery business offline in 2005 within a few years it understood the prominent benefits of being in the online platform. The company expanded its retail business online and is currently providing the facility in metropolitan cities.
Easy check-in and check-out
User-friendly navigation
Offers & Easy payment methods
Paytm Mall:
The fastest growing and leading online grocery app are Paytm Mall. Paytm has recently owned the online grocery shopping app and is becoming a rival competitor to Flipkart, Amazon, Grofers. The app is offering fresh vegetables, fruits, dairy products, and house cleaners essential and much more. Paytm owns the largest number of FMCG products. It gives the facility of e-Wallet and refund.
Across India
Easy to download
Easy payment
Reliance Smart:
Reliance is the leading brand in India and has started operating in the metro cities and is a popular retail Supermart chain in India in selective cities as mentioned. The app has currently around a thousand plus products on its official website in a different category. Reliance is majorly associated with major brands that sell grocery items and have launched more than 100+ offline supermarket stores. Its grocery shopping app is still in progress but has managed to found its grip in the market.
Spencer's Shopping App:
Spencer's online shopping app has a wide range of food, grocery essential, and house essential items. The best part is it offers delivery within 3 hours from the time of order placement. The app offers flexible delivery slots and the best quality products.
Wide range of products
Delivery within 3 hours
Flexible delivery slots
Easy search options
Easy payment methods
JioMart:
The joint venture result of Reliance Fresh and Jio is this favorite app of grocery shopping- JioMart. It was recently launched in 2019 and has provided its facility in 200 cities giving out the best deals. It provides free delivery with no minimum order. JioMart offers varieties of products from lipstick to dairy products, and packaged food. The app offers the best deals, combo, and easy search experience adding it to the most demanded app for grocery shopping.
Free delivery
Wide variety
The facility in more than 200 offers
Easy search
Easy checkout
E-wallet
Cross-platform performance
Big Mart:
This app offers you the accessibility of the finest grocery shopping app ensuring it is quick and easy. Launched in 2016, Big Mart has successfully served its purpose of serving its customers with high quality and best and fast service.
Easy search option with click swipes options
Easy check out
Best rated service
Wide range of products
Now, If you wondering about how should you can start your own online Grocery Delivery business and where you will get the tech solution likes apps, website, and backend get developed and How much does it cost, And how much time it will take etc then you can check out our some readymade solution for Grocery Delivery Apps.
Closure!
Undoubtedly! These online grocery apps have grabbed the Indian market like never before and are the most demanded app. These apps have features that are easy to use and offers complete valuable service. India's economy has grown at a faster rate, in the year 2020 about 76% growth in sales was observed. These apps are swarming the economy not just of eCommerce but of mobile application development industries. It has brought along employment and great demand of developers, delivery boys, and mobile apps for making life easy and quick.
If you are planning to get online with your business. Then, visit ionicbaseapp.com for shopping app development and deployment.
FAQs:
What features makes a grocery app advanced?
Push notification
Real-time tracking
GPS tracking
Behaviour tracking and product suggestion
Loyalty programs
In-app chatting and calling (Consumer, Store owner and Delivery boy)
In-app navigation
Reviews and rating for particular product and service
Re-ordering
CRM and ERP integration
Visual search
Voice search
Recommendations
Web application & PWA
These are few features that makes the grocery app advanced and highly rich.
2. Should one opt for Freelancing or Agency for app development?
Well, app building is a huge process, multiple steps are included. If you wish build an app with even minimal feature it will take up to 300 hours and cost you about $ 20,000. Agencies are preferred because of they have latest technology and a team of experts providing the service. A freelancer might lack these. App building includes – Project manager, mobile app developers, front-end developers, back-end developers, QA expert, and UI/UX designers.
3. How does a grocery delivery mobile app work?
The UI/UX developers have made it easy to navigate the app. The virtual tour to a store is sorted with these simple steps.
Registration through Facebook, Gmail or Phone number
Set a password as you login
Go to the search bar type what you wish buy
Browse through the products, can add all the filters, price limit and much more
Select the product and add to cart
Add address details
Confirm the order by paying through a mode you are comfortable
Admin will receive the request
That is forwarded to the store owner
Store owner responds to acceptance or rejection
Order is then generating through the store manager
Update admin that courier service is collected
Courier service updates the admin and the customer
4. Why should one invest in grocery mobile app development?
The investment has high return value. People are getting technically advanced and of course are now want direct access to everything in their mobile. Eradicating the queue, missing offers, billing struggle is dissolved with this grocery shopping app. About 30.4 million people are actively using the Grocery apps for their daily needs. The grocery app revenue is to reach about 38,600 crore and will rise up to 30% in next 2 years.
Thus, investing in grocery app and making your digital presence becomes highly essential.
5. What are the challenges faced in a online grocery business?
Here, are the few challenges faced by online business
Limited work force
Delay is delivery due to the pandemic but was not a problem prior the pandemic
Customer not being a tech savvy might lose its track or payment methods online
Delivery charges while buying few products the customer has to pay delivery charge but they are hesitant to do so
Difficulty in reaching small towns
Inability to master inventory management
These are few challenges that generally online grocery app faces due to its competition motive and huge marketing expenses. But there is no doubt about the solutions to this problem coming soon as the download of these apps are in millions daily.