Do you have a supermarket or grocery store? And looking to start an online grocery shopping Store, then this post will help you out.
Planning to go online with your supermarket or grocery store? Then, we got your back with the online grocery shopping store and the post to help you out.
What is Readymade eCommerce Grocery App?
It means an app that is ready to use for Online Grocery business. If you go with Readymade eCommerce Grocery App then you save your overall development time, cost, and energy. And you can start your online Grocery Store / Online Grocery Delivery business in just a few days. In this Apps are already develop based on the requirements of the online Grocery Store and Delivery system. So you have to make the purchase of the app then setup things (Like server configuration, Hosting, Data import/Upload, etc) then upload your apps on Google Google Play Store and iStore to get your user privilege they do online grocery shopping from anywhere.
Why do You need Online Grocery Shopping and/or Delivery Apps System?
Today we are living in a world where mobile and internet taking lead for every industry. You should require an online presence for your businesses else you will going to lose in the coming days. Because now these days don't like to go to Grocery or supermarket, do the shopping, stand in a queue to make billing, pack their items, and come back and waste their time and energy. These days people just open an app and keep shopping on their fingertips from anywhere and set their pickup time based on their convenience.
As per the survey of the Internet now more than 60% of shopping happing through online. And if we see only Grocery market then it will go upto $29.7 only in U.S.A before COVID.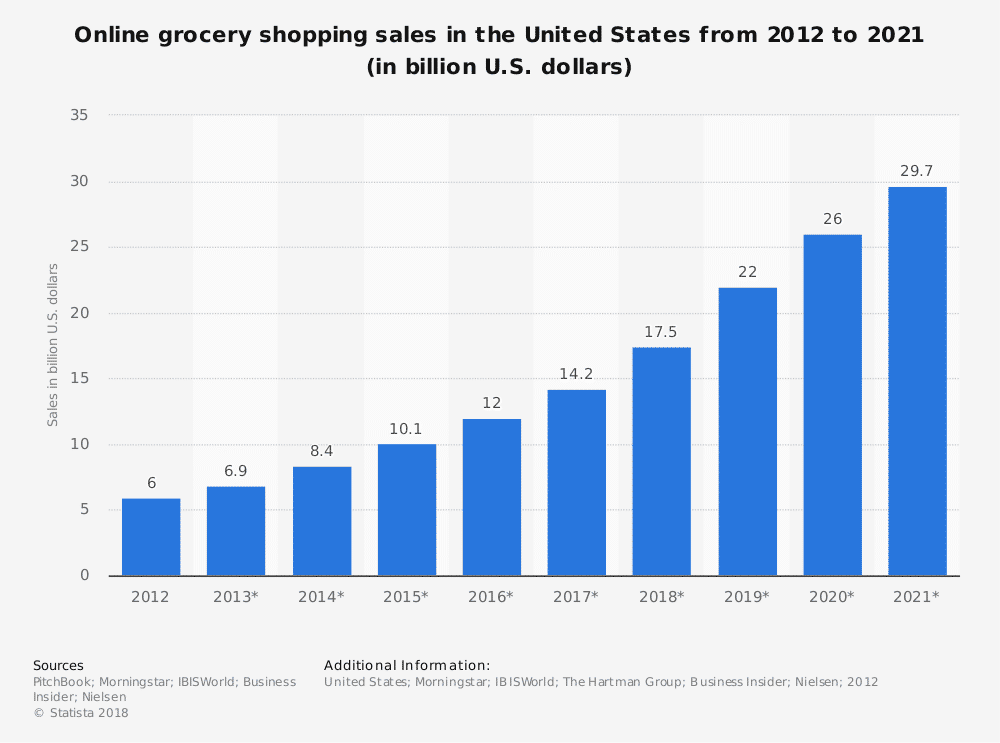 And after COVID it has increased by 30%. For example, in a press release, Walmart said that they have increased their sale of grocery items by 30% and they recorded the highest download their app during the COVID-19 lockdown.
How to start Online Grocery Delivery System with Readymade App?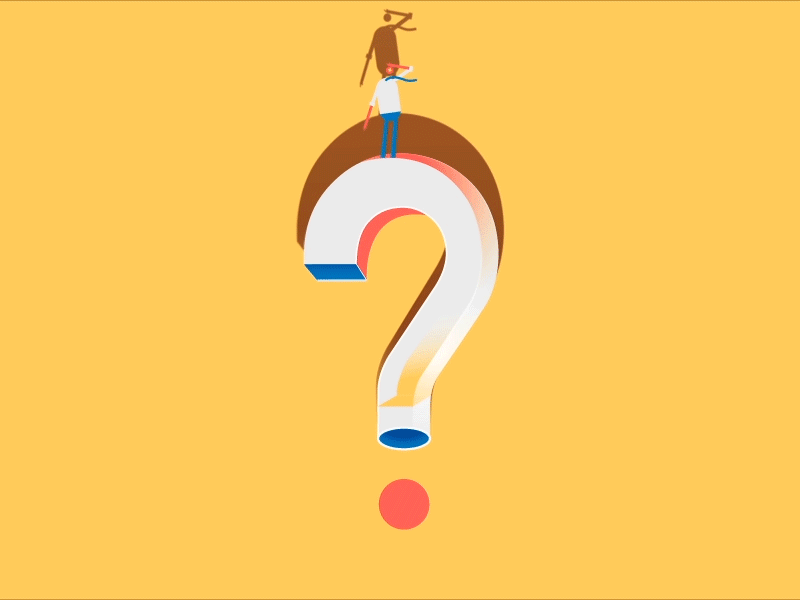 First, you have to find out the Grocery app that will suitable for your requirements. Then made the purchase on of that application and go through with their documentation and do the setup. Or you can pay a bit setup and installation charges from which you made a purchase of the Grocery Delivery app system. Or you can go with custom Grocery Delivery App & SystemDevelopment, But it will take more time and cost. To get know how much does it cost and how much time it will take check Grocery Shopping Delivery App Development Cost. There are two kinds of Online Grocery Delivery System businesses:
Grocery Single Store Business App: It means if you have only one store and you looking app for that then it will suitable for yours. With a Single store, you do not require and vendor management admin dashboard and it is very easy to manage and its cost will be very less compare to Multi-Store. Here only one store are able to manage their products and delivery system. If they have more than one store then it will not suitable for you. If you would like a take a live demo of all in one solution for online grocery delivery system then check out our one in all solution for grocery business below.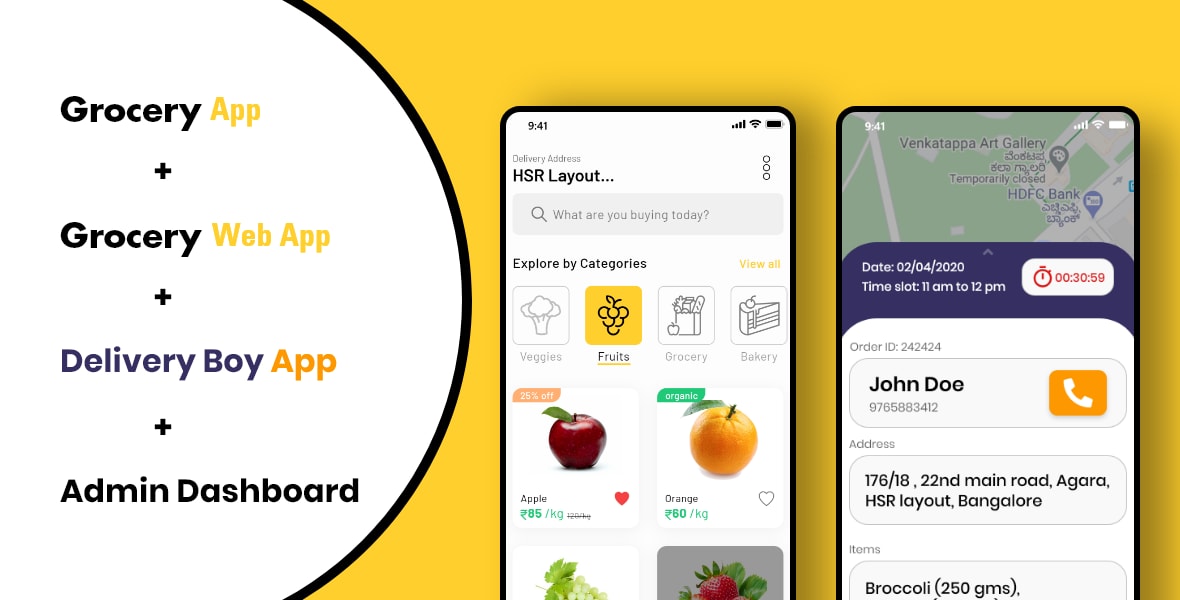 This readymade eCommerce Grocery Delivery system contains the following four applications: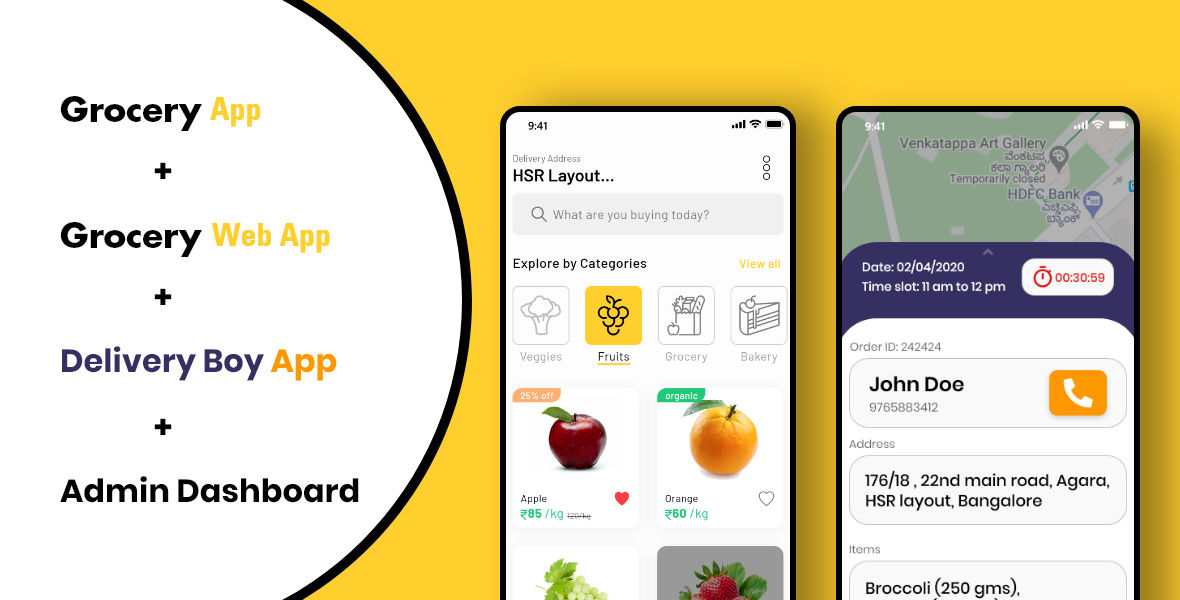 Grocery User App: This app for users. Via this application users can place their order and keep track of them. This app will work on both iOS and Android.
You can see the flow and screen details our Grocery Shooping App:

2. Grocery Delivery Boy App: This app is for the delivery boys. Via this delivery application, your delivery boy can manage their delivery items and keep track of them along with they will get the map guide feature. You can check out Grocery Delivery Boy app design, Flow, and Screens.

3. Grocery Webapp: This app will work for the browser of any device. So if the user likes to order from their browser then they can order from here and they don't have to install your mobile app. They can keep track of their order, delivery status, and more. For reference you can check out our eCommerce Grocery Web app design, flow, and screens.

4. Admin Dashboard/CMS: This Grocery Dashboard will help you manage your User App data, Delivery Boy Data and payment, Webapp data and more. This is one place where you can manage your all application and store along with your sales tracks and product inventory.
Grocery Multiple Store Businesses App: It means, If you have multiple grocery or supermarket store business or you are looking to tie up with them and going start an online delivery system then this application is suitable for you.
In this application you should required the following apps to run your business.
User Mobile App
Delivery Boy App
Vendor Mobile App
Super Admin Dashboard
Individual Store owner Dashboard.
For Refrence for Grocery SaaS application app design and flow you can check out below image:

Pros and Cons of Online Grocery Delivery Apps:
Pros or Benefits of Readymade Grocery App and System:
There are many benefits to readymade grocery apps if you are starting or planning to start your online grocery business. But here I point some of the important points that might help you to understand why should you start online grocery business with ready to use or readymade grocery app for your Grocery Store and/or Supermarket businesses.
Time: If you are going with ready to use the app then you will going to save your time, because if you would like to go with custom development then you have given them time to develop that app. But in readymade supermarket/grocery apps you don't have to wait for development time. It already developed with all the necessary features that a grocery app required.
Cost: If you are going with custom development then it will cost more high than a ready-to-use app because with the custom development you do require a development team, a testing team, and time. Or you have to hire a Grocery Development Company who can take care of your development process and it will cost higher than the readymade supermarket/grocery app.
Setup & Installation: The Setup & Installation with readymade online grocery app faster and easy compared to custom development because with this app there is already documentation that has a step-by-step guide that helps you to setup and deploys your app on your server and play store.

Development & Maintained: If you go with a readymade grocery shopping delivery system then you don't have too much worried about the update and maintenance. If you already purchase from any trusted source then you will keep getting regular updates, as well as they, keep maintain their app build that will help you to keep update your app.
Cons:
Customization Limitation: There would be customization limitations with readymade supermarket or grocery delivery app. It has fix UI and flows that might not customized exact way you would like to. It will be required time to develop your proper customization.
Technologies: It will be limited to technology Because the app developer used technologies on which they are comfortable. So if you are familiar with that then you might need a development team to manage and update your apps. One more reason, after some extend it is more time and cost consuming to move technology. So make a wise decision before purchase any ready-to-use app. Check out on which technologies they built and does that technologies have a future or not.
Conclusion:
Here we saw why should we do the required online Grocery Shopping and Delivery system. How to build it with the Readymade Shopping apps. What are the major types of the online grocery business, And what are the pros and cons of readymade shopping & Delivery apps along with how we choose the technology for future updates and maintenance?
So, as we discuss above we saw that we can build your online grocery business within 2-3 days with a minimal cost. We do require and ready-to-use user app, delivery boy app, eCommerce web app, and an admin dashboard/CMS to manage our applications. And one DevOps guys to do setup and installation of your apps on your server and play stores.