What to Expect from a Mobile App Development Company?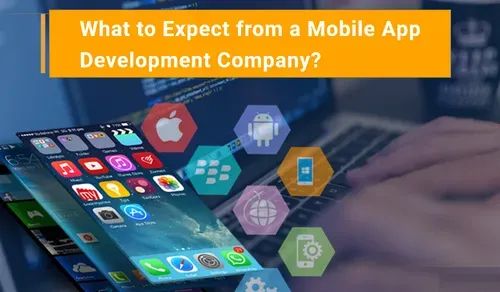 A mobile application is one of the inventions that not only has added value but opened a new market as well.
Clearly, to boost your business today the mobile app is essential. The reason is its easy accessibility. It provides two-way communication 24*7. Customers find it convenient to shop, pay as they wish, and raise complaints that get solved soon. It gives a personalized touch to your relationship with customers. It increases visibility and brand value.
Building a mobile application is not easy. It takes months to build a flexible and interactive UI/UX for the best user experience. The reason it is termed as a great investment. Fortunately, mobile building firms today offer Readymade mobile apps like Readymade Grocery app, Online Food Delivery Apps, and whatnot? It is accessible, gets deployed in a week, and is best for start-ups.
If you are wondering about what are the apps and features you will get with Readymade apps then the below infographics may give you a short overview. e.g: The below infographics represent the readymade online food delivery system/apps.
If you are from a development background then there are open-source readymade mobile app templates available too. And, is the first choice of start-ups in the present. But what are the areas you must check before hiring a mobile app developer or a firm?
What Should You Have Before the Appointment?
Prerequisites
Get your details about the project ready. It is better to have an overview of the mobile app before going for consultancy. It helps you clearly talk about app development time, cost, and the technology used to create different applications with reasons, and clear objectives. It also clarifies the level of complexity you will face with your project.
It saves time, provides more details to your project, and gives you direction. It speaks of how well researched and serious you are about business and investment.
Outline of the Project
No one will know your project any better than you. It takes time but outlining your project will help you what services you would need from the mobile app development agency.
The type of business you are looking forward to and how you wish to navigate it is totally your decision first. You need to have a piece of depth knowledge and research done to build an outline of the mobile app/website.
It helps you create a better prerequisite; know the technologies and services you will avail yourself. And, most importantly, how do you visualize your mobile app? Once you build the structure it is far better to let the developers gain the insight and develop exactly as you wish.
If you have the basic app development requirements idea, you definitely will have more clarity in the interview. It is suggested to hire someone who has already worked for the same niche.
Plan of the Budget
Before you hire a mobile app development company, one thing that you must keep in mind is the Budget.
The prominent reason is the cost of developing a mobile application counts in hours invested. It then depends on factors like the type of business model, features to be added, technologies to be used, developer's experience, and much more.
Having a clear investment plan and outline of the project helps you exclude and include the relevant game-changer features. You can't just go on spending money without being calculative about the return. If you do, it's not going to work, no matter what you do.
Specified Time Frame
Yes! Time is important. Building an app that ranks in both providing service and the best user experience is what will drive results. With your prerequisites, an outline of the mobile app, and budget, the developer will provide an estimated period.
It includes consulting, choosing the framework, coding, testing, and deployment. The technology and features chose to decide the time frame. Adding to that the budget might get extended. So, it's better to take time and have a blueprint idea. It is essential that it might take place.
Objective & Goals
One of the most essential points to keep in mind is the objective and goal of your business while building the strategy and outline of the mobile app. Before you think of web designing, investment, business model, prototyping, and marketing the objective and goal need your consideration.
It helps you build the strategy on what you will and what you should not. If the objective is not clear, the investment, and planning fail and are clueless with no destination.
And, it is a must to include it in your prerequisites. It is the solution you will be providing to people and try to create a positive impact. Let the result of your investment be fruitful and worth the time and energy investment.
Questions You Should Ask to Any Mobile App Developing Firm
Mobile Apps Developed Before
This has to be the first question that you should ask your developer/firm. You need to not just hire talent but talent and skill that aligns together. Experience in the niche you are opting for also adds a lot of value and clarity.
You can ask for a demo, case studies, and examples of what they have worked on before to be satisfied. It gives more clarity on how the firm and developer will assist you with.
Which Development Platform Would You Recommend for the Specific Application?
Yes! The prominent part after outlining the app is to choose the technology and the framework for your mobile app development. It becomes as if your app is never finished, it will keep on upgrading with time and should work on cross-platforms. But keep note that this is a clear question with a direct and clear answer. The mobile application developer might have some strengths and weaknesses, question them, and about all the pros and cons of technology frameworks.
Having known of the numerous brands built under various platforms will clarify doubts as you can always check their processor and user experience services. Technology selection will also affect your time frame and cost of development. You should be aware of the technologies that are preferred and closely analyze the advice being given.
Brief About Your App Development Methodology
So, even if you go to your firm with an outline of the project, let it be features, design, and the approach of the app. The first thing your mobile app development firm needs to do is create an outline of the app again, why? To let you know if this is what you actually meant. If a firm can resonate with your idea and get exactly what your approach is. Well, that is good news. You can now stay in peace as it will be executed pretty well.
Asking About the Methodology Becomes Important to be Sure How it Works. How Do You Communicate Throughout the Project?
Yes! If a firm is a local software development company, in a different city, or completely sharing different time zones. Knowing the best communication method provides insight into the firm's and developer's team-focused approach.
It should just be virtual but let them recommend regular updates and in-face meetings. Each meeting should be scheduled and well-informed. It should provide you with demos and updates. You need to know not just their technical aptitude but their approach and work ethic. It definitely affects the bond and work.
Negative Experience with Previous Clients
A negative experience with a previous client explains how he resolved the problems that arrived if commendable. Just letting you know the problem and no initiative taken to solve it is clearly sounding abrupt and irresponsible.
Problem-solving skills enrich communication. Surely, no app development is complete without some errors so, the developer and firm communication, problem-solving, and responsibility are to be questioned and examined here.
See if they blame the client, ask for more money that could get easily resolved, or patiently make you understand and try to solve the problem.
Types of Developers & Their Details
A diverse platform and app development speaks of the tremendous skill a firm possesses. ask for demo, docs, and technology details along with details of the contract. the features, UI/UX, a platform of deployment, etc might call for different technology. Ask for the reason, what are they good at? It will give you a very clear picture of the developers you are hiring. Also, an overview of how your app might look at the end.
Benefits After the Deployment?
Never forget to ask for the deployment and maintenance offered after deployment. How and when would they update? Will they charge extra? Is there any extension of the copyright? Everything that concerns me from building to using it in the market. A mobile app made by a mobile app development agency is a way to go online and be very aware of your objective and goals from the app and the company you are collaborating with.
Are you looking to build a mobile app? And, are you looking for free consultancy about the best market valuation and technologies that have been adopted with enterprise along with the costing to development and its development life cycle then Connect with us. We will provide a free consultation with a scrum master that will give you the exact roadmap for your overall development lifecycle, costing, and maintenance.
Ionicfirebaseapp is one of the leading companies that offer the best mobile app development both free and paid. It has successfully served about 500+ companies in 135+ countries for a decade now. Our parent and/or officially registered company name is PIETECH SOLUTION PVT LTD.