How to Build an Online Food Ordering System?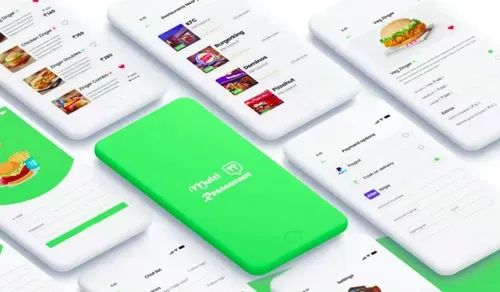 Thanks to the online food ordering apps, that made the food ordering delivery process has become easiest. Gone are the days when we had to make a list of food and buy it by standing outside the food shop or restaurant, nowadays we can easily order our food by simply clicking a few clicks and getting delivered to the doorstep.
An online food delivery app is a system developed by software developers and app development companies that helps you order food and owners of restaurants accept the order virtually. One can browse through their menu virtually, order food, and pay as per your comfort.
These online food ordering mobile and web apps are done through a particular designed mobile app or web app. Simply, you browse through the menu, select its order, the restaurant owner accepts the order, the delivery boy gets the navigation and you get your food delivered at your doorstep without making any one-to-one conversation.     
In-app store googles you can save your favorite food item in-app, see the history of your order, and even get to book the table of your choice without making a call with the menu. The digitalization of food ordering has saved a lot of time, making it an overnight profitable business.   
Why Food ordering app and delivery system required?   
Gone are the days when people would travel an hour or plan to eat out a day or week before or even search for a table and change venue for its availability. Online food delivery service apps offer multiple solutions to these traffic-prone plans. Readymade food ordering and delivery apps have hugely impacted people's lifestyles and are instantly accepted apps worldwide.   
The major reason the food ordering industry is growing is how instantly the customers have accepted this as a part of their lifestyle. It becomes important to inculcate the online food selling app or system as it generates immense revenue for both restaurants & system owners, is efficient to use by any non-techie person, and is impacting life to make it better. 
With the rapid evolution in mobile phones and their application, the requirement of an easy lifestyle emerged. People always opt for the Apple app store where they can find apps that are comfortable and well in quality instead of quantity. Information-based platforms like websites and the internet do not bring the easy access one gets through the mobile application.
These food delivery apps bring in secure, scalable, and smooth operations for the eminent reason approx. 85% of people are switching to food ordering apps instead of websites. 
Delivery Mobile app gives you an idea of the user by age, gender, and income and how well your app does at which hour of the day. You can see the market Growth statistics of these food delivery apps in the past few years for a better understanding of this making big companies. The food delivery app industry has bloomed.
Reasons Why you need your food delivery system app?
Reduction in operating costs  
Keeps you ahead of your competitors  
Order collection made simple, easy, and quick  
You get to profile your customers  
Connecting with customers becomes much easy  
Management of menus, pricing, delivery zones become easy  
Online payment benefits  
Total and easy control gives you a better report  
Dashboard management  
Delivery boy app  
Multi-Restaurant online food ordering saas app  
Order history offers easy tracking of profit and loss  
Offers and coupon management at your own pace  
Chatbot for customer's convenience and feedback  
Customized service  
What we are selling/Benefits?
As one of the leading readymade flutter restaurant app  developing companies, Ionic Firebase App offers you fully customizable readymade apps that help you grow your business. We help you conceptualize your idea from the scratch and assist till you get live with your idea. Ionic Firebase App helps small and big industries that wish to launch their business. We are a team of experts who are passionate about developing apps for apple store google play and giving the best service.  
We provide you with a robust food delivery app that works cross-platform and is highly functional providing users the best experience. Our experts are capable enough to leverage the features you want and create scalable applications. The services can be mentioned as,   
Cross-platform functionality  
24*7 service available  
Seamless communication  
Maintenance support  
Efficient up-gradation  
Digital transformation  
Timely updates  
Development & Management  
Dedicated team  
Blockchain  
IoT  
IT strategy consulting  
Web app development  
Mobile app development  
We not just create designs but execute them in terms of the application used at all platforms with error-free access to the customer, owner, and delivery boy. The top-notch application development is what we provide even if you cannot organize our passionate developers with their experience are well capable of organizing the thoughts and provide variable options to choose and grow from.
Online Food Delivery App Market growth and stats
One can call this an overnight success or demand generation in society for this app that is helping one save time, get informed food on time, and give immense profit to anyone involved.
The robust reason these online food delivery apps offer is a great industry whose value reached about the United State $4.35 Billion in 2020 and is predicted to be growing at a 30% increment every year.
Food ordering apps are a global industry today and every gig economy or big country is already making their investment in this big pool of revenue generation industry. Countries like the US, UK, and India are enjoying the benefits but Uk stands to be the most competitive market of online food delivery saas apps to be exact and has generated revenue of 204 percent in the last few years.    
2015- Revenue generated $8.7 billion
2016- Revenue generated $10.4 billion
2017- Revenue generated $13.7 billion
2018- Revenue generated $16.8 billion
2019- Revenue generated $22.0 billion
2020- Revenue generated $26.5 billion
These revenue-generating lists are particularly about the US market survey, but this approx. how the popularity of online food delivery and online food ordering systems has gained its popularity. The revenue is estimated to reach $42 billion reaching 66 million users from 2015 to 111 million users in 2020.   
The online business has truly evolved as a full-fledged service and is serving in every continent growing its brand collaborating with every small and big restaurant. These ionic 3 restaurant mobile apps profit both the owner, user and third-party business involved. Launching your own business is highly appreciable as the online food industry is sure to grow much higher.   
Zomato, Swiggy, Doordash, UberEATS are a few names that pop out as we talk about the online food delivery mobile apps. UberEATS has acquired about 670 cities around the world and has added a new graphic to its rental car business. UberEATS has set the example of how other industries too should invest and get the benefits and increase their brand name.   
Many small and big ventures have started to follow these baby steps towards it and help the small businessman with the internet. In a true sense, ionic firebase restaurant mobile apps have united many remote areas restaurants, hotels, and stalls in this digital industrial revolution. 
The process to make a food ordering app? 
The world has submerged in your mobile apps and demand for utility applications has surged significantly since the last decade. And, an on-demand food ordering app tops the list. Zomato, Swiggy, and FoodPanda are some of the leading brands for food ordering mobile applications that grew at a faster rate. Building a food ordering app is easy.  
Step 1 - Select the business model
The readymade food ordering and delivery system have a model choice like – Order only model, Order, and delivery model, Cloud restaurant model, Meal kit delivery model. Each model has its advantages and limitations. It is because of the features they come up with. Choose according to your preference.  
Step 2 – Choosing the Revenue Model
You surely want to monetize your application. Add delivery charges, Revenue sharing, Advertisements, and Promotional Services, Surge pricing, Daily deals to attract customers, White labeling.  
Step 3 – Update with latest trends
Always look out for the latest trends to be updated and attract more customers and that in the present includes social media ordering, enabling chatbot, and location.  
Step 4 – Finalising the features
The feature addition demands the type of model you chose for your food delivery app. The order-only panel includes- The customer App, flutter multi-restaurant saas app, and Admin app. The Order and Delivery model includes a Driver Panel along with the first three mentioned above.   
User Panel Features-
Geo-Location, Restaurant Lists, Delivery Address, Food Cart, Payment Mode, Order Scheduling, Review & Rating, Order History, Push Notifications, Multiple Filters, Real-time Tracking, Promos & Coupons, and Help & Customer Support.  
Admin Panel Features –
One-Click Dashboard, Registration & Profile Management, Manage Customers, Payment Management, Order Management, Driver Management, Modify Elements of the app, Reset Passwords, Campaign Management, Plan Discounts & Promotions, Manage Restaurants, Feedback Management, and Reporting and Analytics.  
Restaurant Panel Features -
Managing Orders, Accounts & Management, Dashboard, Restaurant Profile, Add Products, Accept & Reject Order, Payment, Special Offers, Order Alerts, Track Payments, Order Reports, Customer Support, and Reject Orders.  
Delivery Personnel Panel Features -
Registration, Order, Delivery History, Call/ Chat Option, Online Support, Managing Orders, and Status Update.  
Step 5 – Choosing the technological stack
The technology you choose highly depends on the delivery business model you want. A few examples can be,  
Registration- Facebook, Gmail, SDK  
Storage – AWS, Google Cloud Storage, Digital Ocean  
Payment Gateway – PayPal, UPI, Braintree  
Push Notifications – Urban Airship, Amazon SNS, Firebase Cloud Messaging  
And, you are ready with your very own food delivery app.  
You can even opt for multi-readymade food delivery apps that are much more affordable and are delivered to you within a week customized as per your requirement saving 300 hours of wait. 
How to make a food ordering website? 
Follow the steps for easy and the best food delivery app or system or website setup. You can build it for free but few platforms have minimal plans like $6 to $40 per month.  
Step 1 – 
Pick a platform for your food delivery app. Consider its flexible to use, affordable, easy to learn and use, and also popular for the content management system. 
Step 2 –
Select and set up your domain, hosting, and email. Choose the three relatively matching with your business name. The domain name can be your country or city. Hosting can be taken from Amazon or WordPress and various other platforms and plans available, and please set up the domain name with your brand name for authenticity. 
Step 3 –
Choose the right theme for local food delivery or multi-vendor food ordering app or website. Use a design that is easy to navigate and directs users with call-to-action buttons. 
Step 4 –
Set up WooCommerce for ordering as it is easy to access. Plugin your website account, select the payment options, and add products that you offer. 
Step 5 -
Grow your Website using different platforms and eliminate the third-party services with costing. 
List of the best online food ordering system? 
The top online ordering systems are as follows. 
Menu Drive 
Toast POS 
ChowNow 
Upserve 
Restolabs 
Yelo from Jungleworks 
Gloriafood 
Cake POS
How to set up an online ordering system? 
An easy and quick way to set up the best online food ordering system. 
Use your own website.  Use a third-party online ordering app – UberEATS, Swiggy, and many more options available.  Use a third-party online ordering app combined with a POS system such as Upserve, Cake POS, Menu Drive, and so on.   How does an online food ordering system work? 
Food ordering applications enable notification to multiple parties at the same time for one particular work in a smooth manner and seamless communication. It facilitates the delivery of meals from your local restaurants to your doorstep. Food ordering apps allow you to choose from the wide variety available. As the customer taps the food and makes the payment the restaurant owner accepts the order and starts to prepare the meal, the delivery boy is notified about the food delivery to its nearest location, and as the food is prepared the delivery boy picks it and delivers the food following the location added in the application.   
Online applications have enabled easy and smooth service for customers, owners, and delivery boys at one go. All three of them are informed about every step and with no error but if any you can call and report the issue is resolved within 24-48 hours. How to create your own multi-restaurant food delivery app? 
How much does it take to develop a food delivery app? 
The cost of food delivery app-building depends on the requirement, criteria, and features of which kind of app you wish to develop. 
On which platform do you like to build (Android, iOS, Linux, Windows).  Which technologies do you want to prefer?  What would be your development type - Native or Hybrid.  Specific features you want to add to the app?  Company standard and infrastructure, hire reputed, mid-level or freelancer to develop and design.  You want to build in-house or want to outsource. 
These are the basic points that matter. But if you can calculate as per Minimum viable product (MVP) then, it will be in India $400 to $1000 or $2000; in the US $500 to $3000; European based will cost $300 to $2000. It might vary depending on the points mentioned above. 
Building a clone food delivery app like Zomato and UberEATS a package of advanced features using the latest technologies cost approx. $35,000.Note this cost is approx and features may vary and cost also based on companies and location. 
The cost includes the backend work that takes 60-70 hours of work and the development of the stage takes 120 hours per platform. Testing and bug checking takes another 100 hours hence, 300 hours approx. for the total app development is worth the money for the long-term benefits.   
The capital expenditure you pay for cost building gives you immense return in the long run.  
If you would like to take free consultant about app development then contact us https://www.ionicfirebaseapp.com/contact 
If you would like to start with a basic mobile app then, go for a ready-to-use mobile application. 
Q&A: How does a food delivery application work? 
Food delivery mobile apps enable notification to multiple parties at the same time for one particular work in a smooth manner and seamless communication. It facilitates the delivery of meals from your local restaurants to your doorstep.
Food ordering and delivery mobile apps allow you to choose from the wide variety available. As the customer taps the food and makes the payment the restaurant owner accepts the order and starts to prepare the meal, the delivery boy is notified about the food delivery to its nearest location, and as the food is prepared the delivery boy picks it and delivers the food following the location added in the application.  
Online applications have enabled easy and smooth service for customers, owners, and delivery boys at one go. All three of them are informed about every step and with no error but if any you can call and report the issue is resolved within 24-48 hours. 
Can anyone start a local food delivery service? 
Indeed, but it all needs dedication. To start with a local food delivery business, you need to strategize it from every angle from finance to advertisements. Here is the brief idea of building a local food order application with source code. 
Step 1 – Create a solid business plan
This includes defining the 4C's- Customer, Consumer, Channel, and Context. To get a clear idea and execution be prepared with the target market you wish to hit and understand which platform would be the best to advertise and get leads from. 
Define your USP and restaurant-style or delivery service niche if it's particularly prepared food and not grocery or cosmetic products. Select your food type or offerings. Lastly, define your brand with its name and image, and the theme or domain name you would choose while creating the website for it. 
Step 2 – Secure your finances
For any business capital expenditure is required either you would need a loan, crowdfunding, or government aid. So, it is always preferred to start small and safe. 
Step 3- Selecting your location
The most crucial step is choosing the right location for your business and very important if it is food ordering software for restaurants. You need to be in the main location for a good fluctuation of business. The factors that help you determine your business are – Cost, Accessibility to potential customers, Restrictive ordinances, the proximity of other businesses, competitors, and future estimation. 
Step 4 – Design layout of your business 
The layout designing of course should start once you have finalized the plot and are ready to invest. Then, start selecting the layout showcasing your business and make sure of the space you give to each area required for your business.  
Step 5- Suppliers
As a local food delivery service provider, you will be collaborating with multiple restaurants every day. The delivery could be of drinks, starters, baked food desserts, main course, and many other cuisines. So, be very specific while choosing the service you would be providing.  
Step 6 – Getting your license and permits
Undoubtedly, an important step to start your local and online food ordering system and app with source code. 
Start 7 – Hire employees
Be very specific and hire the talent for your business. The content marketing, website maintenance, service provider, payroll holder everyone should be sufficient and working under pressure. 
Start 8 – Build your website
No matter how small or big your business is, it is important to be on the internet. It helps you get clients, customers, and trust value.  
Start 9 – Advertise
You already know who your clients and customers are so, start using that platform and engage with them for brand awareness, revenue, and projects 
Step 10 – Build your local business app
Yes! It might sound impractical but it is important to have your own app that is easy to navigate and on the play store like Google play store and the iOS app store. The world is submerged in mobile today 85% of people use mobile applications and it clearly defines the easy way to reach them. Building a readymade food ordering and delivery app is not tough after you have your own website, you can also buy a readymade app.  
Will food delivery ever be profitable?
There is no doubt about the immense profit these mobile and web applications bring. The capital expenditure includes benefits of Reach to customers more easily, User Attraction, Subscriber, Revenue, Higher Conversion Rate, Customization, Time-Saving, Easy to Reach, Extend Your Content Distribution, Getting Customer Profile, and Track of History Records.