The Best Food Delivery App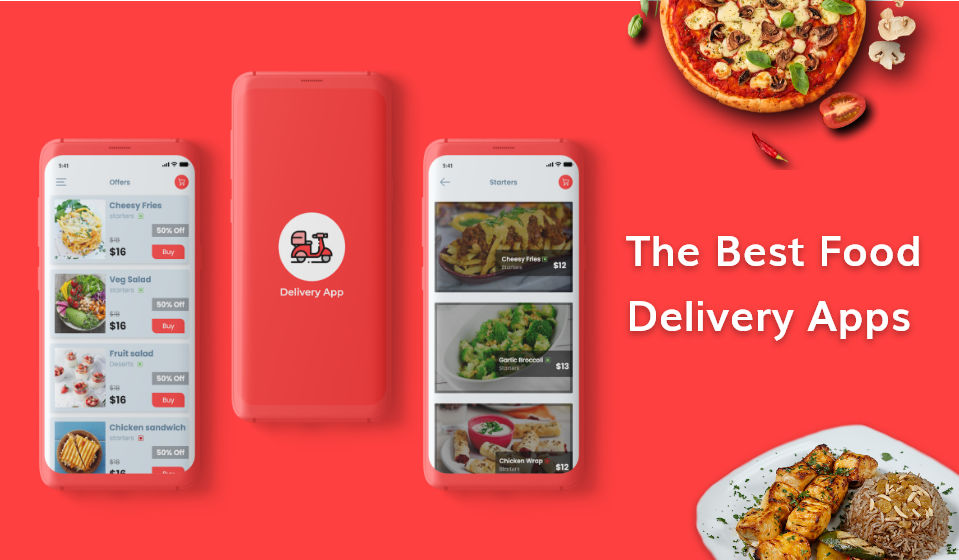 Food Apps – A new way of life!
Zomato, Swiggy, Ubereats did these names just popped into your mind? Well, the reason is obvious! It is also a very unlikely thing if any person's phone does not have these apps or has not used them yet.
But are you aware that these food industries have a trillion-dollar turnover and are estimated to be generating revenue of about USD 956 million? In 2016 February, in India itself, this food delivery market received a growth of 150% that is GMV (Gross Merchandise Volume) of USD 300 million, in 2017 the INR was 45.58 Billion, and is moving expectedly at a CAGR of 38.08% from 2018 onwards. The growth of these food industries is very high and so is their service- Food Delivery App, which is just a smaller fraction of this big enterprise.
Who doesn't love watching their favorite shows and get delicious food delivered at their doorstep? It is undoubtedly the most satisfying and comforting feeling ever!
The reason that these online orders and get your product delivered at your doorstep within a few hours order placed is evolving so fast that it was carried along the firm developing mobile applications. This has become a golden hour for companies is designing mobile applications and even increased their workload. The feature that makes these apps super amazing is not so different from those of other online delivery apps but engaging content, sophisticated, and hassle free.
Amazing Features:
Order food online - Order you favourite food just in few clicks through your mobile phone.
Table booking
Delivery within half an hour from the time order placed
Easy and quick payments
Easy refund - Not happy with food make a refund with min hustle.
Instant Chat with support member to get answer your questions.
Detailed information of delivery boy and restaurant
Coupons, offers, and promo codes
Hygiene and quality standard update and maintenance
Live to track - You can keep tracking your delivery where they reach.
Save favourite food
Order History
Top 10 Best Online Food Delivery Apps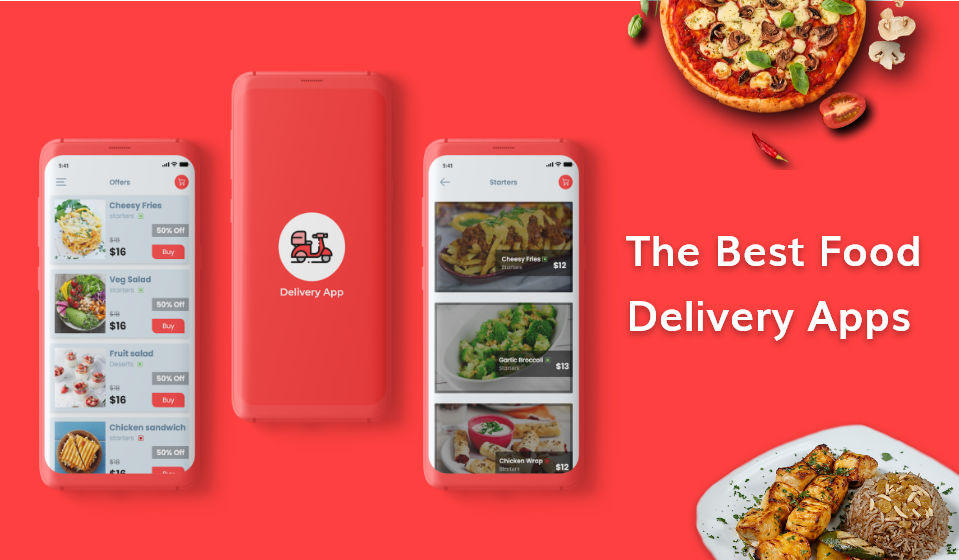 Zomato: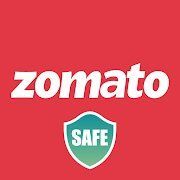 Zomato was launched in 2008 and has one of the best food delivery apps or you may say a leading delivery app in India and 24 other countries today. The app is applicable for both iOS and Android versions. The app provides a variety of restaurants and filters to choose from for all the food lovers out there. It also provides a network for food lovers who provide reviews for the restaurant and its menus. The app is widely appreciated for its simplest user-interface and regular interactive engagement with customers.
Check out the download stat of Zomato Food Delivery app on below image.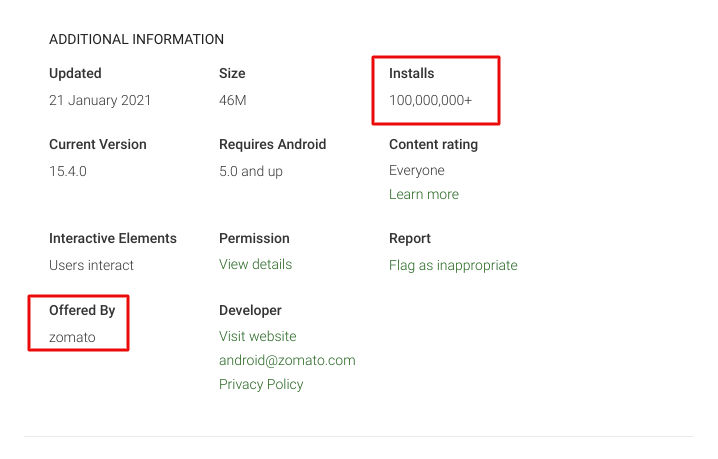 As you can see it has 100,000,000+ download from Google play store account only. And it has Revenue 20.6 crores USD (2019) as per wikkipedia.
Swiggy:
One of the leading brands in the food market today. The company is based out of Bangalore and covers almost100 cities in India. It has the simplest interface and easy to navigate feature for all age group, people. There is no minimum order bar serving the right purpose of an online food delivery app. It has different payment options thatintegrates a better user experience. The company gets over 1.5 million orders daily and has generated overUS $160 million in 2019.
UberEats:
The food delivery industry attracted the most on-demand taxi app, Uber. The American food delivery company was launched in 2014 and is as generated 251 crore revenue as per 2019.
The app allows you to navigate easily through the category, location, reviews, and restaurant filter. You get to track your order like your taxi and pay using any platform. The UberEATS has inspired a lot of brands to join the field and get into serving the customers better. Available in iOS, Android, and Windows phone.
The company serves over 45 countries capturing 6k+ cities.
Foodpanda:
The app was launched in 2012 and has not stopped since then. It is one of the profound food delivery apps in India. It like any other food delivery apps offers huge discounts, offers, easy payment options, and browse their favorite meal anytime. It is easy to create a profile on Foodpanda, browse the menu and restaurant, and even save your favorite restaurant and meal. Available in iOS, Android, and Windows phone.
Eat Fit:
Just craving for good food is not one everyone prefers but craving for healthy food seems a much-preferred option for working people and millennials working 24*7 and has minimal physical activity. This app is built totally to serve the right food and give authentic information about the food's nutrient value. The app has educated and allows one to customize their meal. This app is an all-in-one solution to the unhealthy lifestyle that is creating a major issue today. Just serving what is right and educating along.
Dominos:
Pizza has been the go-to meal for everyone since Dominos spread its branches across India as well as the glob. The cheesy crust, pan-baked, and barbeque the list seems to be memorized to people who are a pure hard-core foodie. Their food ordering and delivery app came in fame as they promised to deliver in 30-minutes or get the double of what you ordered or one pizza free. You get to order from this even while traveling and get your favorite pizza delivered on your train. Dominos never leaves a chance to attract its customers. Now Dominos has been becoming one of the best pizza delivery app due to new launch facility for their customer to book your pizza on your preffered time and while going toward pickup your Pizza.
It captures over 17,000 locations worldwide and has recently launched the No-contact delivery completely serving the purpose of pandemic and safety.
McDelivery:
The favorite hub of all food junkie is McDonald's food. Offers customizable meals to its food lovers be it wraps, fries, burger, cold drinks, and much more. This McDelivery has gained fame by saving its customers time and energy from that of standing in the long queue and looking for tables.
KFC:
A big name for those who are love to eat non-vegetarian. KFC also launched a food ordering and delivery app (https://play.google.com/store/apps/details?id=com.yum.kfc&hl=en_IN&gl=US) seeing the revenue generation and engagement taking place with customers through online food delivery apps. The app too saves you from standing in the long queue and skimming through the menu for hours. The app offers customizable meals, combos, and quick delivery.
Check the stat for number of downloads of KFC delivery app on below image.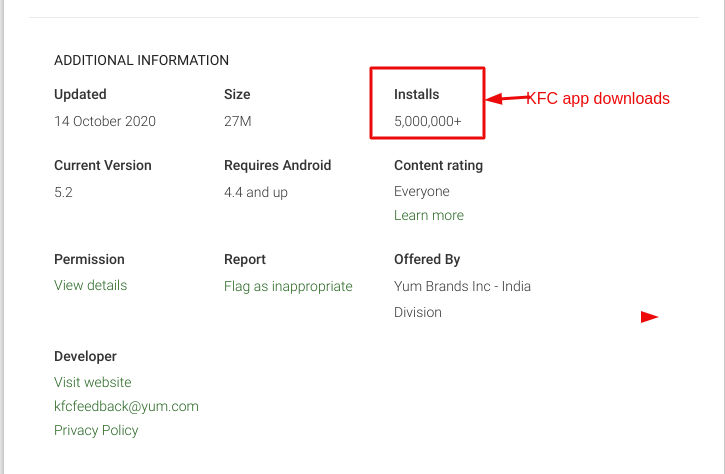 As you can see the number of downloads or installs are over 5,000,000+ for KFC food ordering app that make KFC one of the best food delivery app.
Fasoos:
The app is famous because of its promise of delivering food within 30-minutes and if not delivered the order is free. This offer is in the premium version of this app called bolt that has attracted many customers. The provides service in most of the metropolitan cities and is providing a tough competition to the other online food apps.
Just Eat:
Just Eat is much popular in urban cities as it has not yet started to cover the whole nation but is moving towards it. It pretty much has the same feature as all other online food delivery apps and is one of the survival apps in the phone of working people in major metro cities like Hyderabad, Delhi, Mumbai, and so on.
Closure!
Pizzahut, Potafo, Delivaroo Scootsy, and the list is long, many companies have entered this hub for all the engagement, revenue, and popularity. To be honest, online food delivery is the future and you can see that clearly of how people love the service of delivery at their doorstep.
It has also taken along companies working restlessly to make the UI/UX easy and simple to engage customers and providing easy access. Investing in food and now in the food industry is the smartest and valuable move you can take. So, what are your thought on this technology evolution taking place at the fastest pace? Tell us in the comment section below.
www.ionicfirebaseapp.com is the innovative Apps Marketplace for all-in-one software development for Mobile & Web apps, Backend on the newest trending technologies and tools. We are a Bangalore, India-based development company that delivers products at a minimal cost.
We aim for the best possible business solutions. We are a group of young and enthusiastic people passionate about new tools and technology to help business's rapid growth and grip in the market. We aim to provide apps that help the business to develop and build their customers.
We are open to start-ups to help them to grow!
We are technology agnostics and experts in Mobile app development. Cloud infrastructure and latest technologies like Node JS, Ionic, Firebase, JavaScript, IoT, Angular, React, Vue, Flutter, AWS, Google Cloud, and many more that are used for providing the real-time solution.
FAQS:
Which is the best delivery app in India?
Zomato, Swiggy, Just Eat, Dominos and many more. It at time depends on the availability of the service in your area and how many restaurants have registered with those apps. Nevertheless, these food delivery apps have captured the whole world. Download the app put your location and see the restaurants available.  
What is the cost of developing a food delivery app like Swiggy and Zomato?
Hey! The process of developing an app is not an easy and one day process thus, the cost will be between $12,000 to $30,000 for the basic food delivery app. Building a highly featured online food ordering app depends upon plethora of factors like,
Technology you wish to integrate
Features you want
Platforms you wish to target
If you plan to create a feature rich advanced app like that of Swiggy and Food Panda the cost will go up to $40,000 and might reach upto$1,000 monthly.
App Development Cost = Total number of Hours*Hourly Rate
You can easily save your 300 hour and get a readymade app if you wish launch in a week. Building an app takes up to 300 hours to 500 hours.
How do you make a food delivery app?
Finalise the finances
Select the right model for your food delivery app
Understand the requirement of a aggregator model
Finalize the features
Choose the correct tech stack for a good base
Design of UI/UX as per your brand and services  
Choose the right development partner
Determine the cost of food delivery app
Monetize
Testing and bug fixation
Deployment
What is better freelancer or Agency for a food ordering app creation?
The essential factor for app building is selecting the right on-demand food app developer. It can be a freelancer or agency who understand your objective, requirement and implements the same. Agencies are usually preferred because of a team work that has proper expertise and latest development tools for disposal.
How do I start a delivery business in India?
To give you brief about how to start a food delivery business in India, follows the given steps.
Find a niche like if you would order specific food items or your service
Be definite about your target audience so, you can attract them via those medias they use the most
Create a website/webapp
Develop a mobile app for more relatively as it gives direct access
Build strong delivery connection with the restaurant owners around you
Monetize and obtain legal entity
Market your website
Take orders