Top 10 Start-up Business Ideas For 2022 - 2023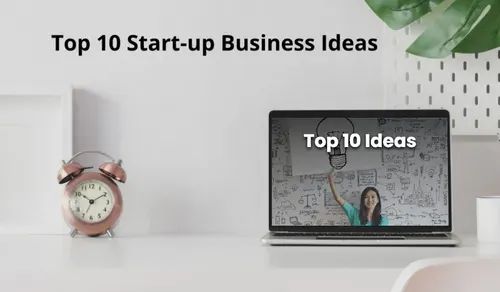 "What do you need to start a business? Three simple things: know your products/services better than anyone, know your customer, and have a burning desire to succeed."
Dave Thomas, Founder, Wendy's
This list includes the 10 best business ideas that can help you find success in 2023 and beyond.
It is widely said that coming up with an idea for a business is easy but executing it is tough. But, wait, everything is difficult until someone proves it.
The business today is all about 'Let's Talk Digital'. The reason is not just pandemic but the number of internet users increasing every minute. Your start-up needs to be updated as the era goes on. Everyone is online and start-up needs to be too. There are many ways to start a business but not being able to reach customers shouldn't be an issue at all.
We listed down a few business ideas that have proved to be great examples of them in a quick time. These start-up ideas have emerged to get clients from worldwide. And it still has a lot of potentials yet to grow.
Many people wish to have a side business that grows and earns them revenue. So, before you begin make sure you are interested and are well-planned. Considering the need, we have listed low-investment business start-up ideas.
1. Edutech
Considering the demand and need of the situation, online education is the new normal. It is a great futuristic approach mixed with technology today. Each business was facing a disaster and adjusting to the pandemic situation; Edutech businesses took a triumphant jump and proved to be the greatest idea. It grabbed the spotlight and is guaranteed to grow more in the coming days.
Udemy, Unacademy, Testbook, Awign Enterprises, Practicality, and Examarly are a few examples of Edutech start-ups. These start-ups focused on what is important and integrated the futuristic approach to it. After which, their worth is in the millions today.
The Edutech start of yours could focus on a variety of courses. The Edutech start is easy today; several platforms offer an opportunity like online tutoring and expand it to live courses with resource materials.
Your start-up could have any USP like offering core skill-based courses for children or adults, technology-based courses, focusing on the preparation of government exams, training beginners and experienced professionals in terms of auditing, management, entrepreneurship, and much more.
With the pandemic the audience has become aware of, the content of learning has taken a tremendous change. So, decide what would you offer – Upskilling courses, educational courses for children, emotional intelligence building, or anything you think is needed.
Edutech is strategized better and could be an intensive revenue-building start-up in the coming future.
2. Personal Finance
Everyone who owns a mobile lets their earnings be less or wants to grow. The point is anyone earning wants to grow their money. Millennials and GenZ are emerging to seize the opportunity.
Money management is something everyone looks for but is not satisfied with. Zerodha, Groww, Mobills, and Yolt have turned the tables.
Gone are the days when people were concerned with banking growth offers of Fixed deposits, Recurring deposits, and so on. Today, the stock market, mutual funds insurance, and bitcoins are growing efficiently. Everyone today is after knowing about finance, growing it, and smart investment techniques.
For a personal finance start-up, you must know who you are targeting, decide on the amount of information you would need, be specific, and provide consultancies before one starts. Millennials, GenZ who are excited and exploring the whole finance management industry hold a lot of potentials to grow your business.
Finance has a huge market existence if you know it starts with it.
3. Cloud Kitchen
The online food industry has grown in billions without investing, instead of bringing the buyer and seller together. They found the potential in the loop that was created. People with new protocols and new norms have got comfortable ordering food at home. This gave rise to a cloud kitchen.
Also, Ghost kitchen has offered job opportunities to many. You can either start following your passion for cooking by getting into the cloud kitchen or just build an app that solves the connectivity and builds great communication.
Cloud kitchen is nothing new but has emerged as a great start-up idea in the pandemic. Collaborating with food delivery firms is one of the most profound businesses. The audience is everyone. Food is life. And, considering the scene today you have whole control over who your audience could be, and what you wish to promote. It is area-based but holds a lot of potential.
Other options related to cloud kitchen are,
Renting kitchen space
Food truck
Shared kitchen management
Building software to help buyers and sellers communicate seamlessly
4. Payment Processor
Ever explored a website and got stuck with the time-taking payment procedure? Probably you left the product and searched for a better payment procedure. Well, this problem is solved by Razorpay, a start-up that made checkout easy and quick.
The reason that it grew fast is that there is a need for it. A good payment procedure helps with a quick conversion rate for the client. Thus, the payment procedure being a conversion funnel becomes essential. The client of this tool is not just in India but abroad.
Mobile app development is at its peak with every business turning to be a brand. And this takes one to a good seamless payment page. Online transactions are the new normal and they could be integrated with so many sites. Are you the one who can provide a seamless, effortless, and quick but safe mode of transaction processor? Then, go start building the world that needs it. The clients would be ranging from small business owners in India to big companies abroad.
5. Bookkeeping
Every business requires accuracy – revenue recognition, reconciling accounts, recording financial transactions, and preparing financial statements. Prime companies today outsource these facilities provided to their clients.
Bookkeeping is a huge task for businesses today. The client of outsourcing bookkeeping includes the healthcare industry in the majority. The bookkeeping solves the areas like Payroll management, Customer care services, error-free services, better Hr services, and many more. Any prime firm with a huge team always looks for outsourcing Bookkeeping services.
You can build a team, train them with a specific skill and outsource it. A very generic and demanded service that has been availed by many firms and is surely not stopping any soon.
Look for every service that can be outsourced- you can even either provide a team or help them connect.
6. App development
As said previously the world is about being accessible. And, given that website building and mobile app development is in great demand. Start-ups search for firms and freelancers that help them with mobile app development services.
At Pietech Solution, one gets to book a free consultancy to know about the targets, goals, audience expectations, and every technological aspect so the product is refined. It is one of the fastest-growing mobile app developers.
Restaurants, shops, cloud kitchens, and bookkeeping outsource personal finance every business needs to be accessible. It has to reach its client and the mobile app makes it easy and quick. you can provide readymade apps for a free trial and free usage and optimize them accordingly. Being a good mobile app development company you get to be as futuristic as possible to retain clients and keep up the scale of revenue coming.
7. Organic Agriculture Farms
A neglected area is an agriculture. Many well-read people have understood the loop and made the agriculture firms worth a million. One can provide farmers with counseling sessions, rent machines, and even help them with farming techniques.
The agriculture farming start-up is important as the audience is everyone, everyone! One can rent farms for farming and enjoy the benefits. Agriculture farming start-ups are doing great worldwide. Look closely through the loophole and start solving it. The market for the agriculture business is huge and will help you earn great revenue and profit.
8. Food/Grocery Delivery
Start-ups like Zomato, Swiggy, and Grofers are well known today. Why? They got into the futuristic approach and guess what their worth is today? And what several employees they own. The answer will go in Billion USD and thousands, respectively. And, this still is not enough to conquer every place. This is truly a great opportunity for entrepreneurs today.
One could either go with an aggregate business model or choose any depending on the choice. Food delivery apps and grocery delivery apps are essential commodities. The growth of these businesses will never be out of business. You can target any area and build your brand and go on with franchise creation. Online food delivery or grocery delivery is a great start-up opportunity for you to begin.
9. Online Healthcare
Yes! Healthcare has to go online. Practo, Pharmacy, and Medicare are a few names to name. These apps connect sellers to buyers and connect patients with doctors. It also provides consultancy with doctors from around the nation.
Considering the current scenario, providing healthcare consultancy, and door service of medicine is a relief. Start-ups can look to provide services to pregnant women, elder people, and everyone who can't afford the right service because of the pandemic. Now even for a first consultation, you can start a video/virtual meeting with a doctor to have a look at the patient then only they will suggest, that is it necessary to come and meet physically or admit to the hospital. This process has been saving a lot of time and energy for both Doctors and patients.
10. Content Curation
Content is king and will remain always. Agencies like Pepper Content, Livefyre, and Fiverr are start-ups that provide a definite direction to the content. Today everyone wants engagement that occurs through content creation that adds value. You can be a platform to connect both content creators and buyers. Content creation is important with SEO, Organic traffic, branding, and conversion, including not just content but marketing it and retaining every client. Content is required for your firm just like trees that require water on a regular basis to survive. So if you have the idea of content that helps your end-users then keep creating content on a regular basis to make yourself/your business a brand.
Wrap-up
Business today is all about looking for the gap and solving it. Your start-up should focus on solving the problem. Whether you choose any of the mentioned business ideas or not. The idea should be to put out the best services and give the best user experience to let potential customers find you.
Before you choose any business idea ask yourself a few questions – Are you interested? Do proper research about the aspect of business and how to begin, audience, and competitors. Build a great team and don't let anyone's failure stop you and any milestone distract you.