Single Vendor vs Multi-Vendor Food Delivery App Development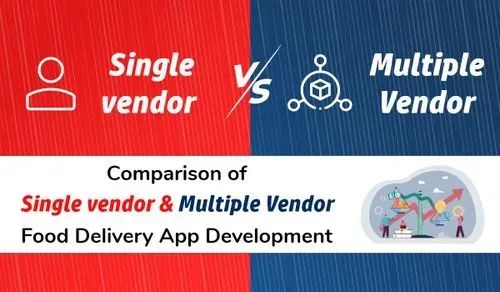 Single Vendor vs Multi-Vendor Food Delivery App Development
Food delivery application development is surely one of the finest business options which are gaining popularity day by day. Prior to the pandemic, it was running well in the app development market but after the covid, it has gained great significance. Not merely the grocery or food products but the essential products such as medicine witnessed growth during the pandemic. And even after that covid, they continue to rise. But in this scenario, business owners are getting confused when it comes to deciding the business model to invest in. To clear your concerns, this blog will compare single-vendor and multi-vendor delivery applications. But before heading to comparison let us first know what is the single-vendor and multi-vendor individually.
Want your own white label and On-demand Food Ordering App with Ionicfirebaseapp?
Single-Vendor Food Delivery App Development?
A single-vendor food ordering app development implies that it caters to a specific market or specialization such as food. Potential customers can easily order their favorite meals from their favorite restaurant by utilizing an application with a single vendor food ordering system. It helps you with a number of characteristics & perks that contribute to great as well as superb food delivery.
A glance at the Features of a Single Vendor Food Delivery Application Development
A Single vendor model has just one seller who caters to all the buyers, hence he or she can build a strong relationship with the valuable customers.
Range of items– A single vendor or sellers can never cater to all the diverse requirements of its potential customers, hence marketplace of a single vendor generally offers a limited range of items
A good system of ordering- When just one supplier is involved, it becomes quite easier to incorporate systems as well as order items
Optimized Workflows– With a single-vendor food ordering app, coordination, communication, and supply become easier. You are mostly just working with individuals from your own organization which makes it quite easier to communicate.
Entry into the market– Single vendors can enter the market easily as they already have the knowledge of the particular business and all they have to do is to give your business a digital presence.
Products managed by the vendor– The vendor has complete knowledge of the items they are selling and hence it becomes easier to manage the same. The leading company or industry has complete knowledge of the stocks they have along with what's sold out or no more in demand and hence, lists of products can be altered accordingly.
Drawbacks of the Single-vendor Food Ordering App Development Model
Choose the right contractor– Building an online store requires a contractor or middleman who has good knowledge and can build a platform for you. Sometimes it becomes difficult to find the right and leading organization in your specific niche that is willing to fulfill your requirements at the price you are willing to pay.
Limited resources- Multi-vendor marketplaces have the benefit of having a 3rd party managing the platform, this multiplies the resources and makes it easy for the top organization to build a platform. Whereas, single vendors do not have the same advantage.
Contractor risk- With single vendor models, having one contractor can sometimes become a problem.
Get the Readymade Food Ordering App from Ionicfirebase.
Multi-Vendor Food Ordering App
By utilizing a multi-vendor food ordering app, customers can choose from an array of food ordering as well as food delivery services. Since a single mobile app will provide a number of types of things, the consumer base will be huge. This concept is surely quite a creative concept. Being an entrepreneur, you must take a deep dive to think about it. It is surely the most effective and result-oriented strategy to increase the adaptability of your business. Owners of multiple-restaurants online food ordering will simply split the commission for each order placed through your food delivery app. By using a single app, you can shoot revenue through the roof. There is no doubt, a wonderful notion for business owners and businesses wishing to invest in digital platforms. The features of multi-vendor food delivery application development are the same. The only difference you will find is in the features of the vendor panel. Instead of merely one restaurant, it would include multiple stores of all the services that the application provides.
Features of the Multi-Vendor Food Delivery App Development Model
The economy of large scale- A multi-vendor marketplace has more than one vendor and hence a number of transactions take place in a day. This lets the marketplace earn profit from one or the other seller.
Overcoming Fluctuations- We can see demand fluctuations for a variety of products sold over different periods. But the fact that this model has more than one vendor makes sure that these fluctuations can be controlled as product volumes can be adjusted
Expertise levels- The admin under this Food delivery application development model is generally an expert in design as well as development. This ensures that the particular website or mobile app is functioning well and is continuously updated with the help of constant feedback from the team.
Increased variety of items- Selling products from more than one vendor implies variety in products. This makes sure that the platform does not have to depend on a particular vendor.
The best option for smaller enterprises- Small & medium-sized enterprises don't have the same resources as large brands, hence they might not be willing to go towards the single vendor route. The single-vendor food ordering app development model puts lots of responsibility and risks on the sellers, which can be minimized by utilizing a multi-vendor model.
Drawbacks of the Model
Administrative concerns- This model needs seamless integration between different parties. In addition, there are multiple online interfaces involved, which makes it difficult in case of any concerns with tasks as well as processes.
High costs- This food ordering model requires higher costs when it comes to negotiating with different business vendors.
Integration issues- Different components of the item are developed as well as maintained by different teams, hence integration becomes tricky. These concerns can cause additional costs as well as efforts for the enterprise.
Want To upgrade your Food Ordering App with the latest features?
Complexity
In Single-Vendor, the owner of a restaurant has to integrate his system into your mobile application. Though it might seem a bit challenging, there is nothing much to fuss about.
In Multi-Vendor, the real challenge lies here. Here, the owner of the single-restaurant food ordering app will have to integrate everything. Merging all the information into one cohesive system will be a huge task.
Cost
In Single-Vendor, the cost of custom food ordering mobile app/development will be less here because of better volume discounts.
In Multi-Vendor, you will have to acquire individual components to put together your solution, the price will be greater.
Difficulty in Implementation
In Single-Vendor, installing single-vendor solutions is generally quite easier. That is because you have to integrate merely one set of protocols into your current systems.
In Multi-Vendor, you'll have to manage the integration of diverse technologies in this. So, multi-vendor on-demand food ordering app development might take more time to implement.
Product Upgrades
Solutions of single-Vendor are likely to experience fewer significant upgrades. However, the updates will certainly be far more extensive.
In Multi-Vendor, you'll receive upgrades more often because you will utilize and view smaller packages from each vendor. It is quite possible that this will cause integration issues in multi-restaurant online food ordering app projects. However, with modern technologies, you can handle these concerns with ease.
Business Survival
In Single-Vendor, you'll deal with merely one type of vendor, your revenue might be unstable according to how it performs. However, having a few big players will definitely assist keep your business afloat.
The multi-Vendor mode is best for volume sales as well as high revenue. The income you'll generate will compensate for all the concerns with integration & complexity. Just like uber clone app development(ubereats, zomato, swiggy) integrates ride booking with delivery services, you can provide many food ordering and delivery services.
Want To Get A Food Ordering Clone App like zomato, swiggy?
FAQ
1. I am running a restaurant and want food ordering apps like zomato or swiggy, can you help me?
Absolutely, we can! Being a leading Custom Food Ordering Mobile App / Development company we have dedicated and experienced app developers that have developed so many successful food delivery apps which meet the requirement list of clients. In the world of the food delivery apps market, zomato and swiggy are surely doing great, and if you also want to grow your revenue and won't make your business name a brand name the Ionicfirebase's development team is always there to deliver you the best in the short time period that too in a reasonable rate.
2. Readymade or Custom food delivery app Which one should I choose for my business?
Though both custom and readymade mobile apps are good to go, the thing is that if you are heading toward readymade apps then first make sure that the particular food ordering app is matching the standard of your business means it is feature-rich and easy to access or not. In case it is meeting the requirement list or it requires a few changes or modifications which could be possible then choosing the readymade food delivery app would be a better choice, as you can see how it is working. But if it is not matching the requirement list of your business then opting for the custom food delivery app would be worthwhile. Ionicfirebase is popular for both custom and ready-made food delivery apps so feel free to connect with our support team and get the service in a couple of minutes.
3. How many readymade food ordering apps do you have?
Well being a leading mobile app development company we have a number of readymade food ordering apps that can match your and your business needs. As we have a dedicated and passionate development team that has developed so many food delivery apps so after collecting the all details and the required feature list our dedicated mobile application developers have developed so many food ordering apps, that you can pick anyone. Also if you want to add or want to delete any feature then we can do that too.
4. Do you also provide restaurant apps for Saas-based businesses?
We are a prominent name in custom food delivery application development having a proven track record in developing SaaS-based applications. Our seasoned application developers specialize in SaaS-based application development for food delivery services. To deliver the best we use the latest tech stack and agile methodologies in addition to open-source software platforms to deliver next-gen enterprise solutions at reasonable rates. Do you want Saas-based food delivery or restaurant apps? If so, connect with our development team and share details about your business and get the feature-rich food ordering app at a reasonable rate.
5. For the readymade app you charged me monthly or only one-time fees
For the ready-made application, you need to pay one time only, so there will be no extra charges on every single step as other companies do. We believe in transparency, especially regarding the price. So, we do follow a license policy so that there will be complete transparency in the price. The best thing is that it doesn't matter if your mobile app will be available for Android or iOS, you will need to pay a single license per app (not per platform). To know more details check out our license policy.
About Ionicfirebaseapp
Ionicfirebaseapp! A well-known name for developing food delivery apps. Being a leading mobile app development company, ionicfirebaseapp has a number of dedicated and well-trained mobile app developers that have built so many mobile apps for different industries with which the food and restaurant industry comes on the top. Ionicfirebase is not merely known for developing successful mobile apps, in fact, their ready-made apps and custom apps match the requirement list of the business which the entrepreneur makes them a top-rated food delivery app development company. Connect us right now to get the feature-rich food ordering app at an affordable price, that can help you to take your business to the next level.