Inspirational Restaurant Website Design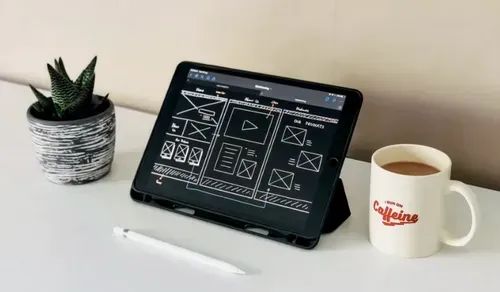 It is no secret that ordering food has gone online. And, it is not just restricted to – Zomato and Swiggy, instead today we have restaurants getting online, setting their brands.
The website doesn't only have to be eye-pleasing but effective with its purpose. Website design plays a crucial role in the world of online shopping and it is no surprise.
The perfect website design gives you a visual treat and serves you its call-to-action buttons. It helps one navigate through its services like- menu, location, the hour of services, contact information, and upcoming events.
Website designs today give you a virtual tour. It speaks to your customers about the atmosphere, quality of food, services, and story if it has any relevance to what you offer.
The website requires good photography or videography understanding of the psychology of colors. There are certain colors known to stimulate the appetite. In other words, a good website design blends the visual treat and the usefulness of the online platform into one.
We listed down 15 inspirational restaurant website designs that have done a commendable job. And, surely will inspire you!
Best Restaurant Website Designs Examples to get Inspired
4 River Smokehouse hooks you up with its beautiful photography of food. Exotic food is the highlight of this website with simple copywriting urging you for call-to-action. The full-width picture with organized call-to-action buttons placed accordingly does the work very smoothly.
Want to create a very simple website yet be loud about your services? Bao London has to be your inspiration then. The website design is amazing. It speaks of its service – Eat, Shop, Pick up, Delivery, Book a table. As you scroll, you discover more services.
The content and its location are perfectly placed. This must be on your list if you are just about to start. It tells you how to smoothly promote your extra services, take a look!
The easiest navigation and glimpse to stimulate your appetite ever is done by Pho Café. Specifically, showing you the food, they offer and has an appropriately call-to-action button placed. Justifying visual treat and usefulness with beautiful presentation.
One must take inspiration from its animatic UI/UX design that attracts the audience.
Jeffery's Grocery website is a goal. It shows you how to stimulate the appetite with the mouth-watering dish placed on its website. After that, add all the service lists for immediate call to action.
The image of the food plays a vital role. You can further improvise with another main cuisine famous in your locality or have a collage of yummiest food ever. After all, online websites should make you want to eat the food right away, isn't it?
If you want to know how to engage the customers and parallelly give them a tour of all your services in a second, take inspiration from Le-Mugs. The brand has used all the high-spirited colors in a perfectly blended form, which are known as appetite stimulants.
Not just the website but the navigation and animation are perfect. The virtual tour is a treat to the eye. After that, the first picture shows the great ambiance and authentic cuisines.
Gourmet Natural's highlight is its aesthetically beautiful restaurant picture. It speaks about its services, classic ambiance, and top-notch food without even displaying it properly. The display of the ambiance leading to the picture of food transforms your mood and that is the magic here.
You learn about the restaurant and food together, giving you no chance of refusing its services.
Playing with colors and calligraphy is what this website proves to be a game-changer. The bold blend of colors and website leads you to explore the services highlights is an amazing idea.
Let your website do the talking! Highlight your restaurant, food, and beer all at once. This website is a great example of how to let the audience explore your amazing menu and get a glimpse of the ambiance throughout.
The highlight of the website is the calendar that lets you pick your service.
True to its name, the Protein Bar & Kitchen has a vibrant feel on its website. The magnificent color choice they have made amalgamating healthy food is applaudable. The restaurant takes you towards a healthy lifestyle with mouth-watering dishes placed for visual treats.
The website has everything placed from the story to orders and menu on its first page. As you scroll you discover the restaurant and its stories that in itself hook you up right away.
We can't emphasize more how beautiful and enticing the website design of Moxhe is! The approx. A 10-second tour speaks to you about its services, food, and restaurant ambiance.
The highlight is its video, the full-width video giving you the feel of freshwater and beaches. It is mesmerizing! They didn't miss the call-to-action buttons on the top. After that, the little details for all the services make it more appealing. One of the best restaurant website designs to take inspiration from.
The website gives you a tour of its delightful food, its location, and the services button. The vibrant color of the food gives you an urge to go for its services and well, that's the goal, right?
Brindisa Kitchen sets another example for quick conversion. It has rightly placed the food and restaurant picture and the booking button on one page. A smart move by the Brindisa Kitchen deserves applause.
Cafés are into mainstream restaurants nowadays. It is generally because it serves entertainment like the music bands, stand-up comedy, and authentic cuisine specialty as its core.
The Monocle Café has its restaurant picture in full length. It gives a glimpse of its posh location and as you scroll you discover its services. The scrolling gives you a good view of its food, pricing, and other services. It is a great inspiration for small restaurants or cafés.
This restaurant speaks of its class, sophistication, and great food through its full-length pictures. It gives you no chance to leave the page. The location services and food are perfectly placed.
The scroll-down section adds little detail speaking of its quality-based services.
Jacks Bar is an example for those who wish to stick to one-page website designs. Jacks Bar simplifies its services into one page and allows no distraction at all. The page has a subtle color as is its theme made on WordPress. On the page, as you scroll you see in detail the story and services as well as the events happening. But the first page offers you enough glimpse as to what it will be like.
Wrapping Up!
It's no easy task to create a website design that attracts customers. It has great importance and impact on its architecture. That brings us to the point that one should make a good investment of time and money for a good return.
If you see it closely the details may vary but the pattern and goal remain the same. The goal is to attract an audience with a beautiful presentation. It is not just the website that will help you with conversion rate but it hooks the customer. And that is essential for conversion.