How Much Does It Cost To Hire a Flutter Developer
What are the benefits for Flutter developers and what will be the cost for hire a Flutter Developer?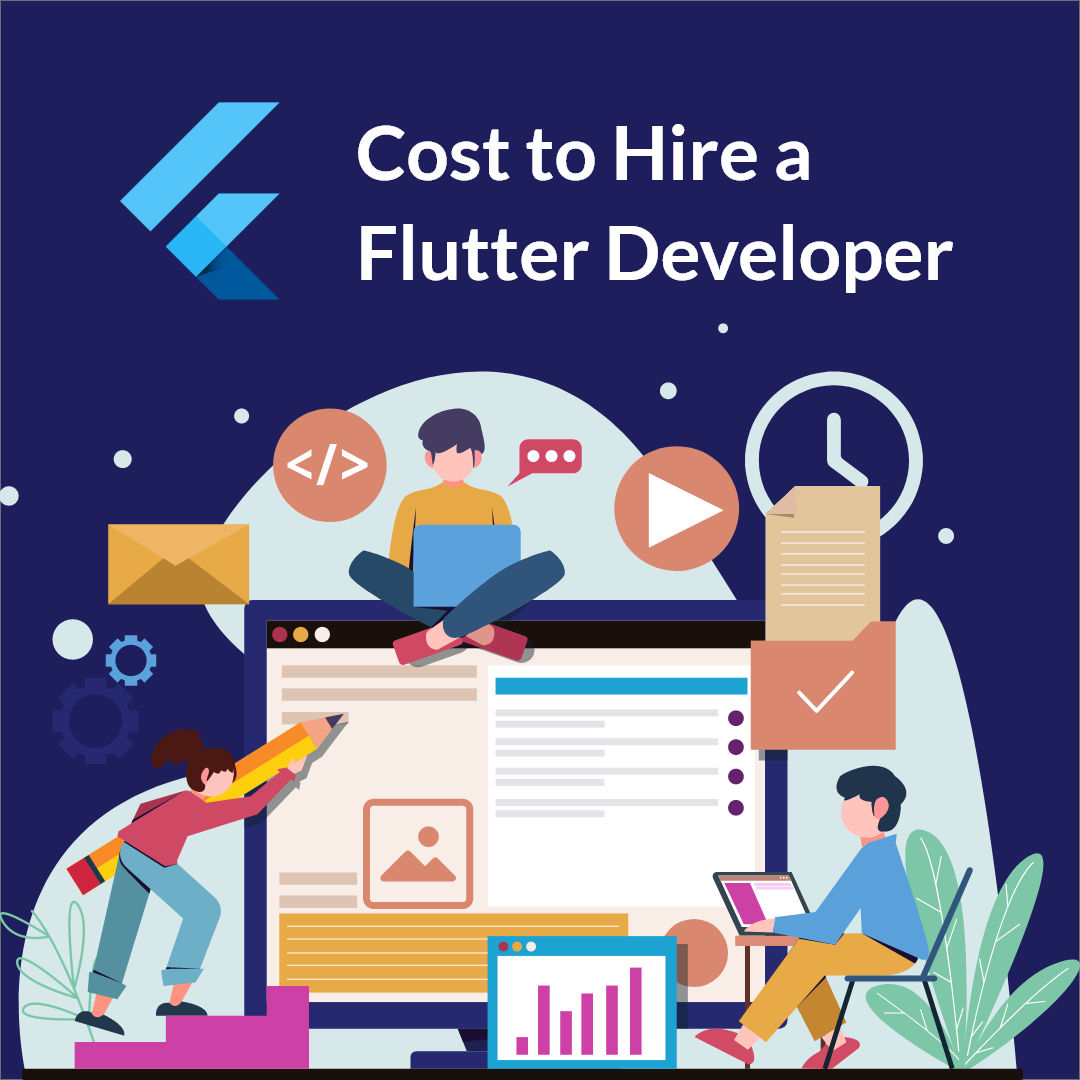 No surprise that cross-platform applications have taken over the market. And parallelly increased the demand for cross-development companies and developers.
The cross-platform application offers numerous advantages from performance to revenue generation. But the question that keeps on cropping is How much does it take to hire a cross-platfrom developer like flutter developer? How much does a Flutter Development company would cost?
So, before you jump right into the pricing you need to in detail understand the facts that determine the pricing!
Article Content
Why Cross-Platform Application? How is it so Beneficial?
Wider Market Reach
Reduction in App Development
Popularity
Easy and Quick Marketing
Easy Testing
Cheap and Easy Maintenance of Codes
Better Plugins
CD-Assistance
What makes Flutter Extraordinary
Backing of Google
Widget Library
How Much Does It Cost to Hire a Flutter Developer in 2021?
Which Company Should You Choose and Why?
The Factors that Determine the Cost
Model Engagement of the Developer
Experience of the Developers
Location
Complexity of App Development
App Category
The Average Costing of Flutter application
Wrapping Up
Why Cross-Platform application? How is it so beneficial?
The cross-platform application offers potential reasons to invest are:
Wider Market Reach: You can't control the platform your potential customer uses but with cross-platform you can reach them. The cross-platform application runs on both iPhone, Android, Linux and you name the device. It provides you access to a great range of platforms and increases your spectrum.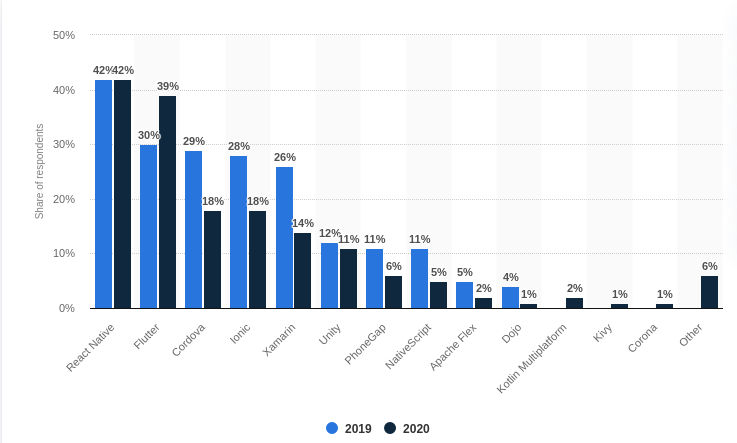 Reduction in App Development: Flutter is an open-source software development kit that Google owns and that is free for all. It has a single codebase and within this recompilation, developers can see the changes immediately. Developers can develop an application for both native platforms without engaging with two development teams.
Popularity: The popularity spectrum of Flutter is much compared to any other development framework. This makes cross-platform a widely chosen platform.
Easy and Quick Marketing: It's fact that the behaviour and purchasing power of customers differ e.g., the purchasing power of iPhone users will be higher compared to that of an Android user and this creates a change in the marketing strategy you need to plan for both. But with flutter, it is not a problem.
You get to promote your product in a great range instead of focusing on a different platform. It saves your time and offers potential customers across the platform.
Easy Testing: With its single base that offers cross-platform functionality it becomes easy for developers to test and check errors if any. The developer doesn't have to waste hours for each mobile app developed for different platforms. A single code base testing is needed for multiple platform performance.
Cheap and Easy Maintenance of Codes: Flutter is a single code base framework therefore development, testing and update become easy and cheap. The recompilation or any changes can be located easily and immediately without devoting an extra minute or effort to maintain the codes.
Better Plugins: The integration of third-party plugin increases the performance and the development of mobile applications gets faster with the top cross-platform framework that is- Flutter, React Native, and Cordova. It allows developers to choose widgets and meet the demand by customizing the app leveraging the useful plugin libraries.
CD-Assistance: Google gives the user the best it can thus with the launch of Flutter in 2017 has reduced the developer's workload with Code magic.
CD solution/Code magic helps developers with automatically detecting, testing, and developing the flutter mobile application. It is easier to implement and has eradicated the requirement of configuration.
What Makes Flutter Extraordinary
The backing of Google – Flutter is owned and launched by Google and is based on its in-house programming language. This signifies that flutter is applicable in the future and might get a lot better than it is today. Flutter ensures the latest and advanced techniques to the developers and translates complicated app development processes easily.
Widget Library – Flutter brings along a widget library giving developers the choice of advanced software development kit that allows them to build native-like UI for the applications.
How Much Does It Cost To Hire a Flutter Developer in 2021?
A flutter is an open-source software owned and supported by Google. It was launched in 2017 and today is the most preferred technology for developing mobile applications. Start-ups or enterprises both demand flutter development services and thus the market has companies offering flutter development services.    
Now, that you have the facts about why the Flutter framework is most demanding. The cost of developing mobile applications remains constant.
So, we break down the segment into two parts- Which company should you choose and why? & How much does it cost to hire a flutter developer in 2021?
Which Company Should You Choose and Why?
Investing money in a company for flutter services is a big decision and that demands you to be specific with few questions. Not every company will offer the best and exactly what you are looking for. There are thousands of companies offering the same service so, how would you choose the best as flutter was launched in 2017 and it's been five years yet. To get you out of this challenging situation, we have few questions that you need will solve the problem.
Before investing you have the following details.
It must be a flutter app development company. It must have flutter development experts so you can hire the developers.
You must have a one-to-one conversation with the flutter developer before investing.
You must get to hire the flutter developer or a team.
As you will be investing heavy capital, the company must share details of their previous flutter app development project so you get specific about the quality service you will achieve at the end.  
Ensure that the company is strict with its NDAs to avoid any mishappening of your business ideas.
You must evaluate the balance between the cost and end-product quality. To get the best evaluation through every aspect becomes important.
These are things you should know before investing. Knowing these details will make your task of hiring a flutter developer or selecting a company will be much easier. Now, that you are satisfied and ready to invest there are two more crucial steps that you need to get a good hold few answering to questions like,
What are the primary features of your app? E.g: login, Camera
What will the secondary features of your app? E.g: API Integration
What sort of third-party integration will the app require? E.g: Apple, Google Pay, live tracking
Will the app require external hardware development? E.g: Smart Watch, Bluetooth Speaker
App design – UI/UX of the app
Will you require app maintenance of the app after it's live on the play store?
What kind of model are you looking for? - Fixed Price Model, Hourly Model, etc
You must know the difference between the development cost it will have with outsourced and remote developers
The average cost of hiring a flutter developer across the globe costs between $55-$65 per hour. In Asian countries like China and India, the development cost is less than $50 whereas in the US and European countries the cost is above $50. Each country has its legal policies and at times it depends on the availability of the developers and that quite less in European countries if compared to Asia.
The Factors Determining the Cost
Model Engagement of the Developer
The demand and supply come in the role here. Companies to meet client's requirements and needs offer three types of engaging models – Part-time, Hourly, or Dedicated hiring model. Each model has its benefit and limits to offer depending on the specific needs of your business and project requirements.
Part-Time Hiring Model
The part-time developer is not expensive and works best if the project is small and you wish to complete it within a small-time frame.
Communication- Email, Skype, Phone
Billing – Monthly/$12-$20+
Duration- 4/hours per day, 5 days a week
Hourly Hiring Model
You should hire an hourly hiring model if you are looking for project migration or upgrading your existing project to the latest features.
Communication- Email, Skype, Phone
Billing – Monthly/ $15-$25+
Duration- As per project requirement  
Dedicated Hiring Model
Outsourcing is the trend and the future. The dedicated hiring remains ideal for any business size.
Communication- Email, Skype, Phone
Billing – Monthly/ $10-$18+
Duration- 8hours a day. 5 days a week
The cost mentioned is an average cost estimated, it may vary as per the location and company's expertise.
Experience of the Developers
The three things that you must ask and know about your flutter developer on a one-to-one interview are- Expertise, Skills, and Experience. These three things create a huge difference. e.g if you want to Hire a Flutter Developer then you should have to check how much knowledge they have. Now since Flutter is now more stable, So you should checked their understing the flow of Flutter architecture, how Flutter mechanism work, How Flutter apps unit testing work and how should a Flutter developer will deploy on live app store and Google play store along with their backend configuration like API integration, and other 3rd party API's integaration. You should alos have to check the logical and how many project they did and how many project went live along with their open-source contribution like Flutter code on GitHub etc.
For, example these three things will help you determine the cost you would pay and what would you expect as the end project. The approx. The salary of the average skilled developer in the US is around $87,818. So, any developer with low or high expertise will charge accordingly.
Discuss well with the developer about the project requirement, objective, and future scopes, and with the developer's expertise, you can estimate the cost.
The prime factor defining the costing is the location. Outsourcing is surely a great help but it comes in two ways – local or remote. And, this adds a bit of fluctuation to the pricing. India tops the list for flutter developers hiring across the globe.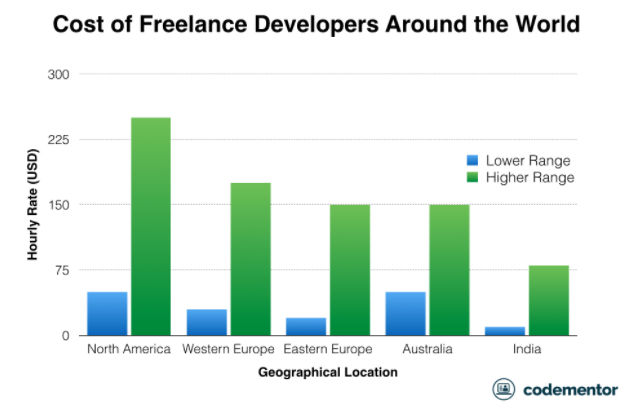 The cost drastically varies with the time a developer is spending on application development. Offshore mobile developer's time-zone difference and hour spend vary.

For instance, India developers cost ranges from $15-$25, US developers cost ranges from $120-$190, Australia costs range from $100-$150. Be specific before investing.
The complexity of App Development
Cost and quality go together when it comes to app development that concerns every investor. The company, set of features, and developers' ability can make a significant change in the app development.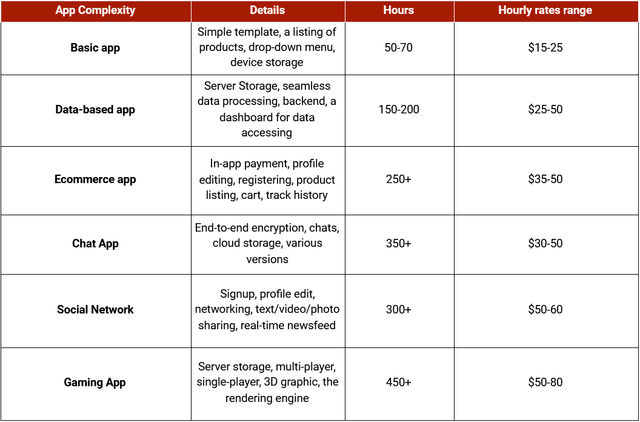 You have to be very specific about the feature like – Basic app, Data-based app, E-commerce app, Chat app, Social Network, and Gaming app. The hours and rate would differ so, you need to specify the details of the app you are building and the company you are collaborating with.
As talked about in the previous point, the category of your application will be decided as every application possess different features, users, and targeted audience.
Grocery shopping app or food delivery app remains the most common category that has an easy working process. Sign up, browse orders, and get delivered. And, this brings you to the question of what kind of audience you will be targeting. but flutter gives you a greater spectrum to launch a target immense number of audiences because of its cross-platform performance.
Why Flutter while comparing to others?
There is already so much content regarding why Flutter over other cross-platform developers. But here we are sharing some of the important points that might help you out why to Choose flutter over another cross-platform development kit/framework/library.

Developed and Supported by Google: The most important factor for any open-source or SDK or framework, by whom it is getting supported. So you can trust and get more feature updates day-by-day.
Re-Useable Widget Range: Flutter has a wide range of widgets that can be reused over the codes to develop your mobile apps and the same widget will work on both iOS and Andorid. These widgets will help you build beautiful UIs.
A Single Codebase: Flutter's same codebase will work on both iOS and Android. You don't have to write and maintain a separate codebase for iOS and Android.
To get more features and benefits about Flutter you can read this:
https://www.ionicfirebaseapp.com/blogs/flutter-app-development/

The Average Costing of Flutter Application
After being sure of how much would it take to hire a flutter developer, you must know the average cost it takes to develop a flutter app.
With facts are given there still cannot be a direct answer to this question. As again it depends on multiple factors. However, the average cost, in general, can be estimated.
Basic feature application- $10,000-$12,000+. This is for a food delivery app, a fitness app
Middle-level flutter app with features of video and image sharing, video/voice calls will cost $10,000-$15,000+
A clone application like that of Instagram, Zomato, Amazon will cost $20,000-$30,000
Wrapping Up!
With a detailed analysis of the app development process and factors deciding the hope, you understood the complexity and how to go easy while deciding the software development company.
There can never be straightforward pricing when multiple factors affect it. So, decide thoroughly and be ready with the pre-requisite that is – a list of innovative features you want in the app and the requirements that are your priority. It will help you and the developer understand the end goal.