Hire a Cake Delivery App Developer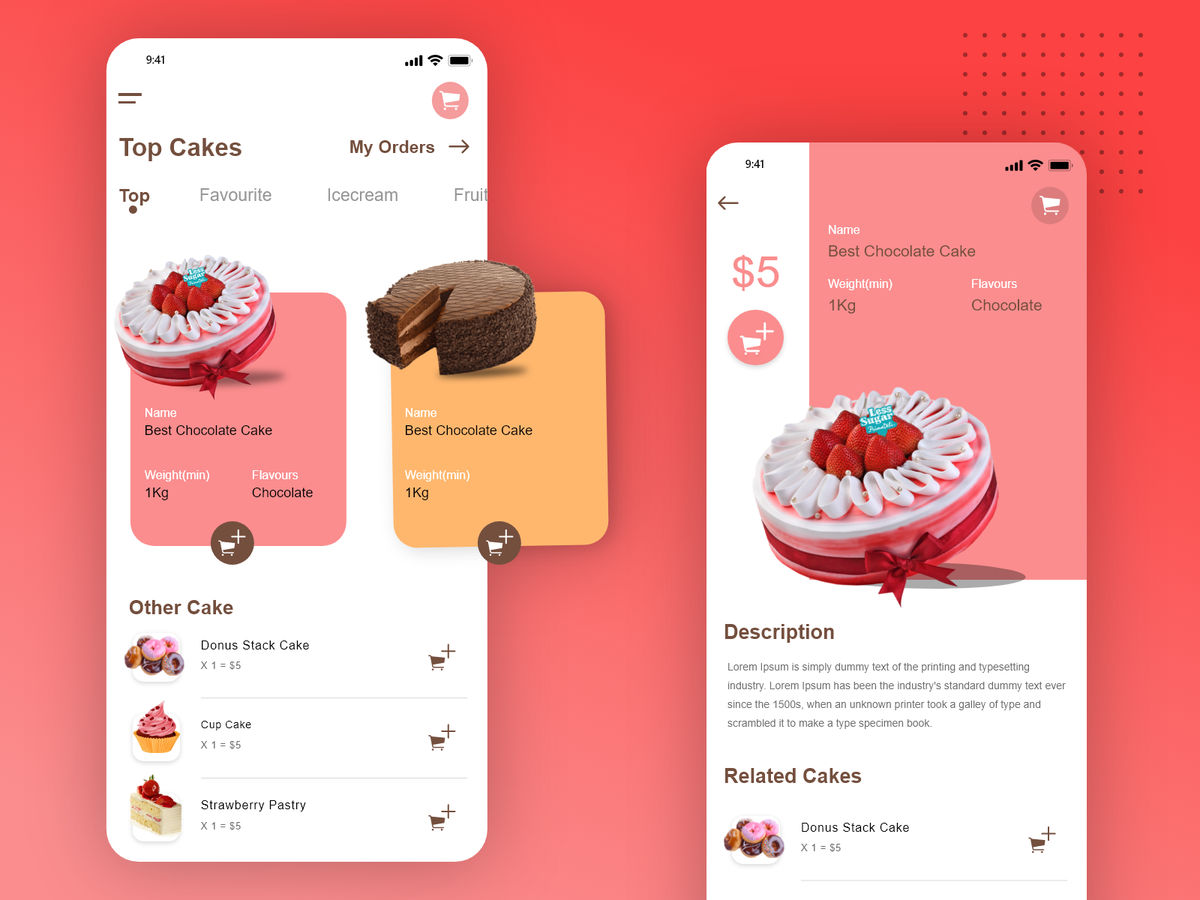 With everything online from children's classes to work who would have thought of work from home and education at home to be there.
The technological advancement has made dreams come true of getting grocery, food, essential services delivered at home. Customers today now do not wish to stand in a queue or wait and tip extra for customization looking at books and getting suggestions from the shop owner. Customers today are more aware about their choices and want hassle free online shopping especially if it's any special occasion to celebrate.
Though we have the online food delivery service but a special brand that offers variety and quality in a special cuisine is always preferred. Online cake delivery is one of the fastest growing business all over the world an offers a lot of scope to generate employment and ROI at a great speed.
Why Cake Delivery App?
Today to celebrate anniversary, follower's milestone, promotion, result announcement, in short for every occasion cake has become an integral part, the reason is its customization that adds personalized touch in the celebration.
The offers and facility offered by the mobile app both to the customer and business owners is satisfactory and provides good ROI. The mobile app owners can earn through the shipping charges, advertisement, and much more options.
With time online cake delivery app has become one of the leading eCommerce websites used all over the world to surprise their loved ones. The quality service is availed at an affordable price and at a required time.
How Cake Delivery App Works?
The working of the cake and flower delivery app is as simple as any online shopping app. Customers' needs to login with their Gmail, or any social media handle Id. They can then select the occasion for sending a gift. There are multiple options available from festivals to personal and professional anniversary.
One can select a particular date or time is essential. Select the cake with multiple filters specifying any customization or message that needs to be written down. You select the cake add to the cart and make the payment. The owner will receive a notification and confirm the order with a mail or text.
The owner then cakes care of the logistics and everything. Customers can track the order with the owner and delivery guy details. When the delivery is done if satisfied customers can rate the service individually.  
There is always a straightforward conversation service available to help customers put forward their query, complaint, or any additional changes.
Benefits of Using the Cake Delivery App
It is best to change with times with old traditions. The advancement of the IT sector has positively impacted our lifestyle. It has enabled a better way to do business. It allows you to ensure a better connectivity with the customers when you serve a specialized service.
Serving a special service, you can optimize the content for better visibility
Customers can look for last minute services and not look here and there.
Trust building as you have a specific service to offer, helps customer coming visiting your profile will be your potential customers.
More small and local business owner's connectivity.
Set brand locally, regionally, national, or at international level.
Easy to find if you stick to specific service and create content.
Easy to track the sales of the week, month or year.
Easy tracking of the bestselling products
Why Invest in Cake Delivery Mobile App
Online food delivery is the new normal now. Though it had gained popularity before the pandemic but post-pandemic it has gained more popularity and order all over the world.
To celebrate any occasion cake is an essential item to have. Ordering from online mobile app it ensures,
On time delivery at your doorstep.
Easy customization at last minute.
Quick service.
Plethora of options to choose from.
Reasonable price.
Easy payment and offers available.
Quality service.
ROI
Branding
Attributes of Successful Cake Delivery Mobile App
There are different types of business format for cake delivery app. But if you are wondering what should be the mandatory characters that must be incorporated in the online cake delivery app? We have listed down few that are an essential in your app.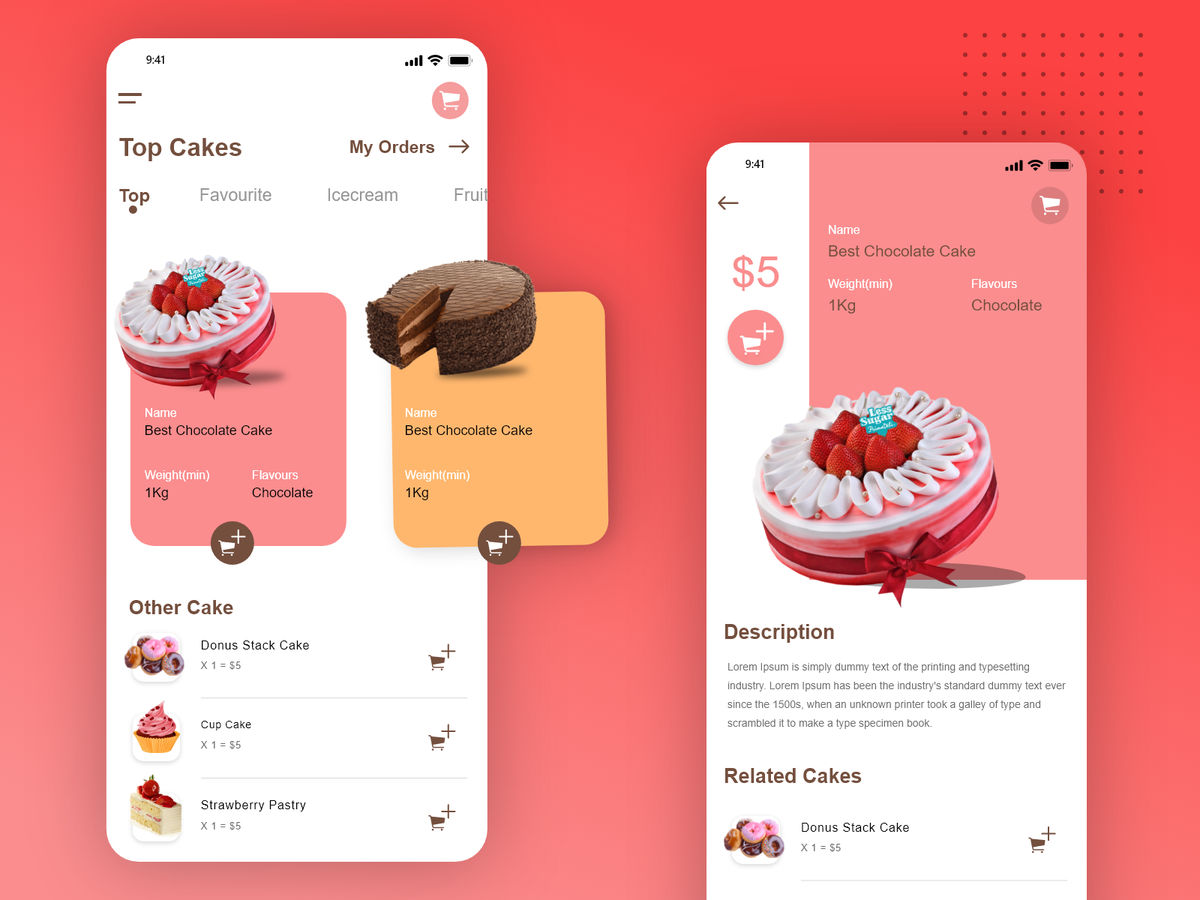 Push Notifications - It adds a personalized touch to your bond with the customers. The wittier, trendy, and compelling the push notification you are more likely to be getting popular and sales. And, to be able to make more sales understanding your customer and the region you are targeting to becomes important.
Offers, loyalty points & discounts - This is the best reason your customers are likely to come back and recommend it to others.  These points and offers can be either sent through push notification, can be on the home banner, or during the payment.
Newsletter – It becomes important to take the email Id of the customers so, it is easy for you to tell them about your upcoming offers, new products, and service. Those who subscribe provides you with the insight that they are interested in your service.
Testimonials - The testimonials work as a word of mouth. It provides your service value and trust in your service. Gaining value and trust offers you with organic growth and loyal customers.
Filter - The most important feature is adding filter in your menu that helps customers select specific products of their choice. You can add all the service list like, occasion, customization, and flavours that makes the searching of customers easy.
Easy payments - It is important to understand that the payment part needs to be very quick and easy, it is important to provide all the details with pictures and lastly with multiple easy and safe payment options.
Customization - The cake delivery app demands a feature that allows the customers to put forward their needs and requirement of the product. A direct message to the owner or the delivery guy makes it easy to convey the changes and makes the service more trust worthy.
Competitive advantage - Presently there are not many apps that offer specialised service in terms with cake delivery. Another reason is that many even today many bakers rely on the traditional way of marketing. So, providing them with a better opportunity of marketing.  
If you are wondering about starting an online cake delivery app or hire a mobile app developing team, Ionicfirebaseapp will serve you right. Want to know how? Fix a free consultancy and let's talk!