Facebook Paid Marketing Guide for Business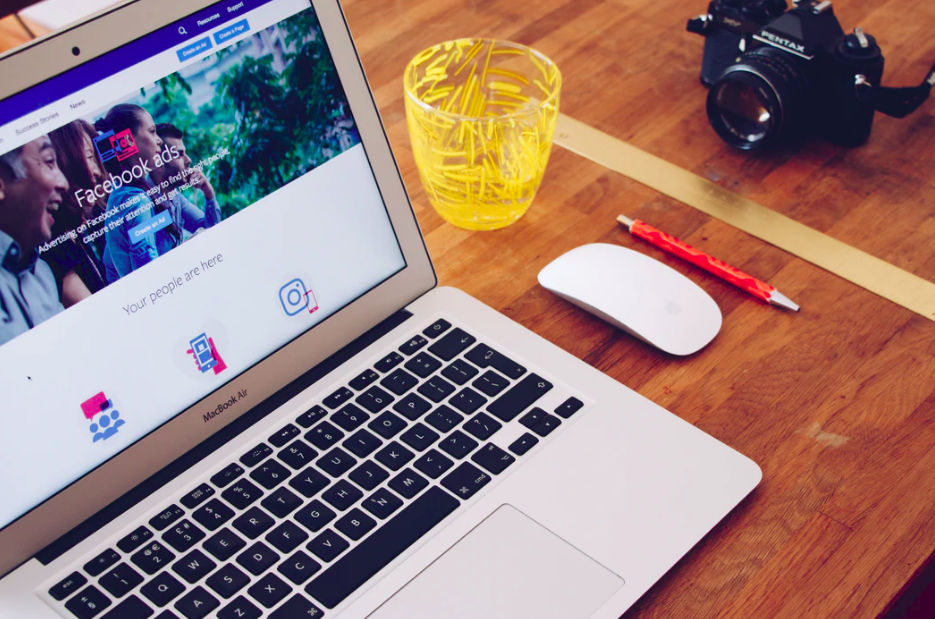 Do you have your own business and looking to Digitally here is some tips for Facebook Paid Marketing that helps to save money and build your most organic audience.
Intro About Facebook:
As we all know, Facebook is one of the most popular social platforms where people spend their time and communicate with people around that world. In terms of business it has a huge audience database platform where you can meet the people around the world free of cost.
Not only users, But also there are maximum businesses listed on Facebook platforms through Facebook Pages and Groups.
Now how can we build our business through Facebook with organic and paid marketing?
Here is guide to make a successful business with Facebook paid marketing.
Requirement to do Facebook Marketing:
First things first create you Facebook Page for your Business or Personal.
Facebook Business Account.
How to Create Facebook Page?
To create a FB page follow the below steps:
Login to your Facebook account at facebook.com
Now Choose you Page Type base on your Business. e.g Shopping Services etc.
Fill out your requied filed and business information.
Click to continue and then customize page like enter short details, business information, Email, Header Image, Logo, Contact details etc.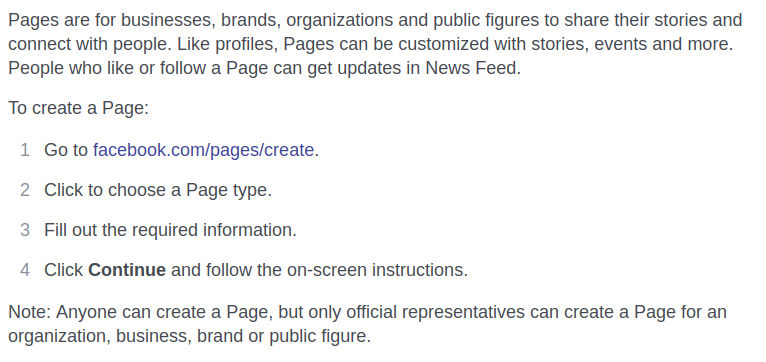 For more details about how to manage and update your Facebook business page you can check out Facebook page manage guide:
https://www.facebook.com/help/135275340210354
How to create a facebook business account?
To create a Facebook business account follow the below steps:
Login to your Facebook account
Go to Facebook business account business.facebook.com/create and select create account.
Now follow the prompt windows to create your business account with your required information.
You can setup your business account based on your requirement, If you are a business then follow the Business guide else follow an agency steps.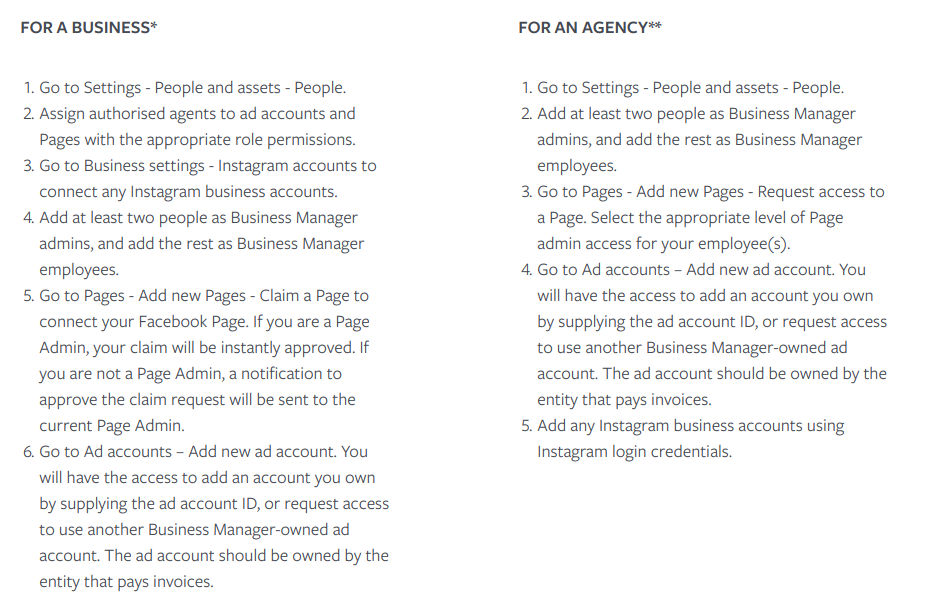 For more details about the Add assets and assign permissions for Facebook business you can follow Facebook offical guide:
If you have signup as a business then Within Business Manager, there are two layers of permissions. The below image will help you to understan.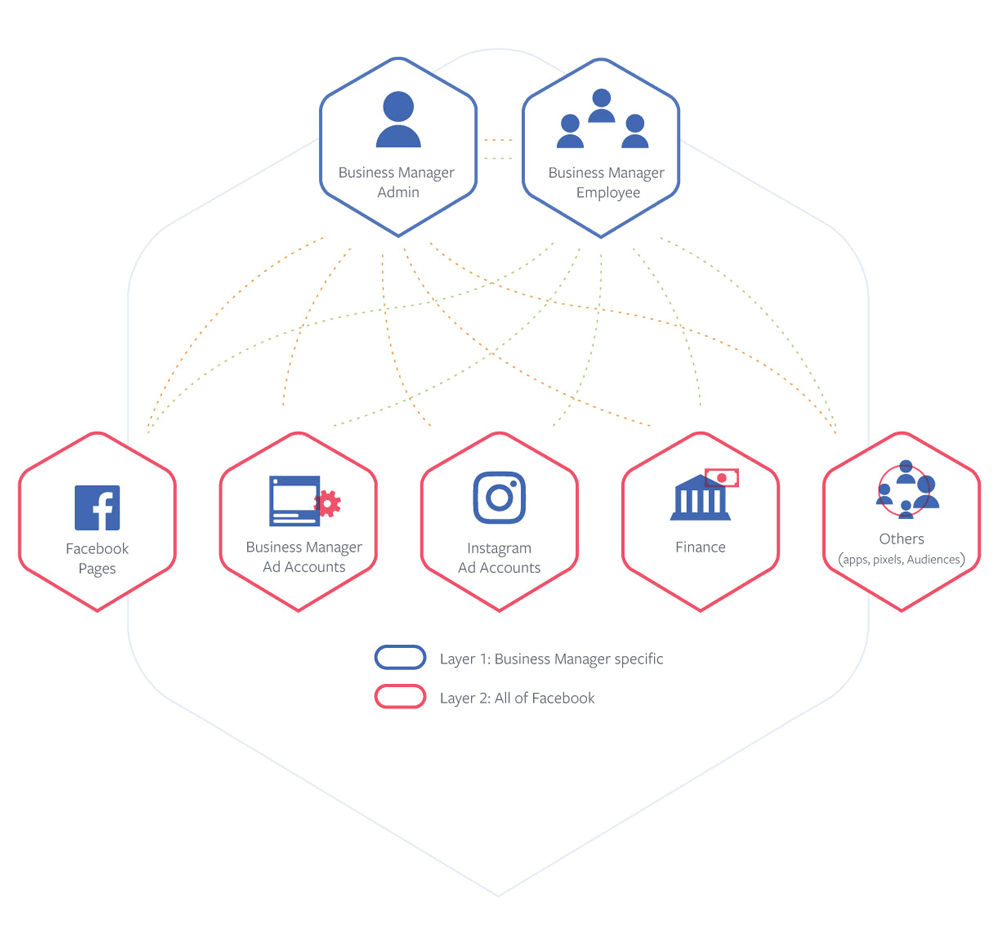 For details you can follow just above link that i mention or check in details about role and permission below:
Now once you set up and assign the Role and permissions now here you Follow how to build your audience.
Once you set up login to business.facebook.com. Then set up your pixel and event base on your platforms. To set up a pixel open business account then click on all tools then click on Pixel.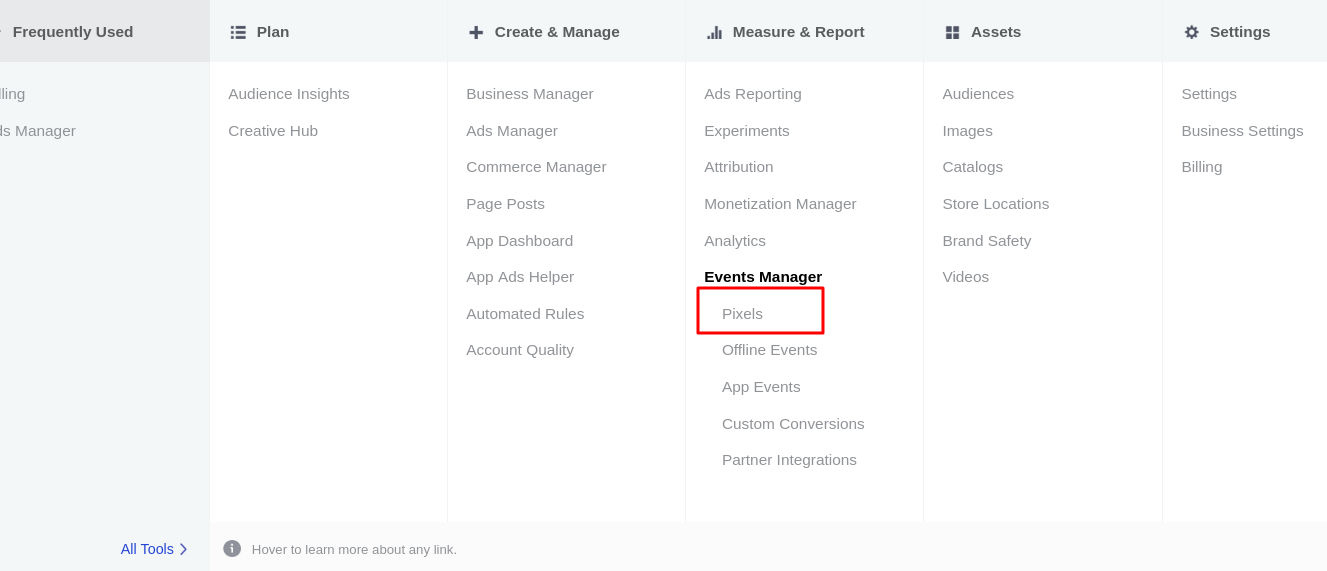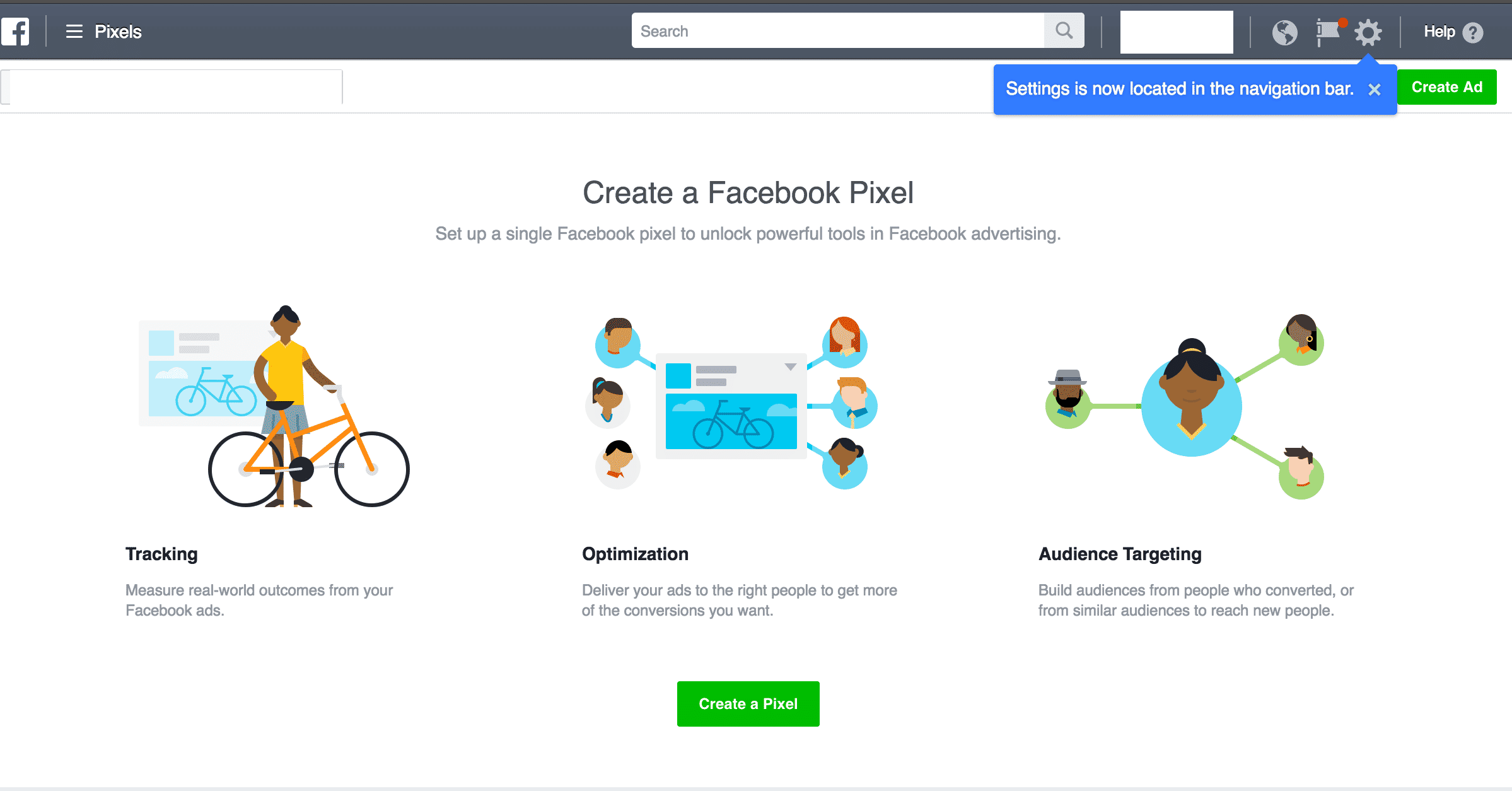 Now Click on Create a Pixel on you click on that then new prompt windows will come you have to enter your pixel name and click on setup. Now send that code to your developer to integrate on your website.
Once you are done with integration then you can set up your event that will help you to track exact behaviour of users that come to your website. now start building an audience to do marketing. To set up your event to do that go to Facebook ad manager all tool then click on Event Manager.

Once you landed at the Event Manager prompt window then Click on the Facebook Pixel that you have setup. Then go to the Event setup then choose Facebook Event Setup tool to setup your events like ViewPage, AddtoCart, Purchase, Signup etc based on your requirements.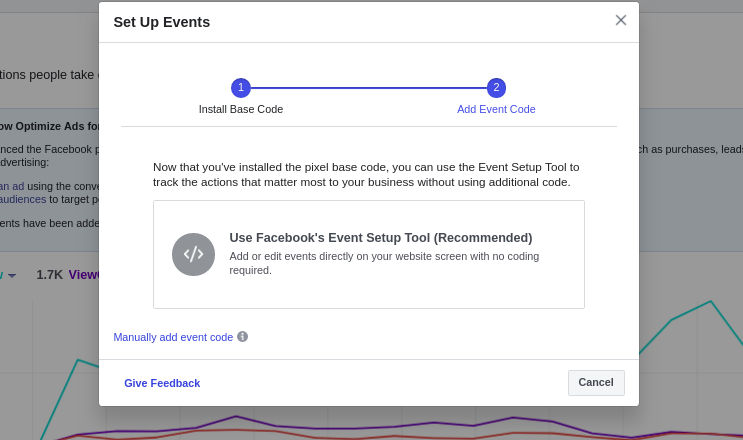 Once you done. Now let's build an audiance that best for your business.
Facebook Audiences building guide:
To build your reach and more exactly Facebook Audiences go to Facebook ads all tool then click on Audiences.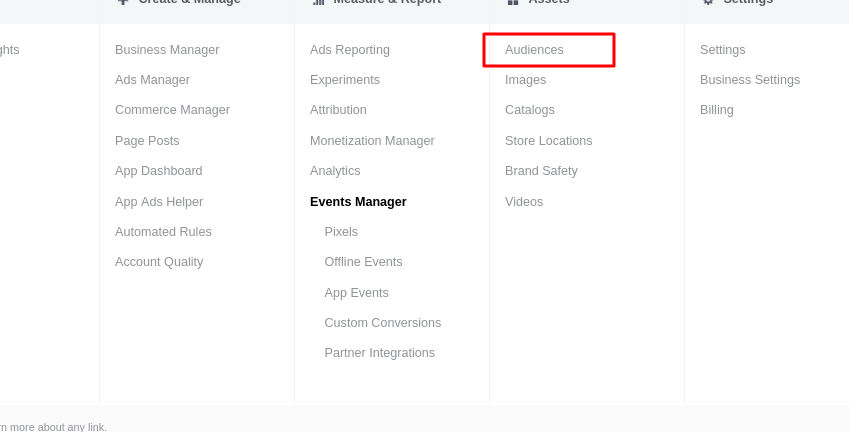 Now once you click on that you will landed on Audiences setup page that will look something like below image.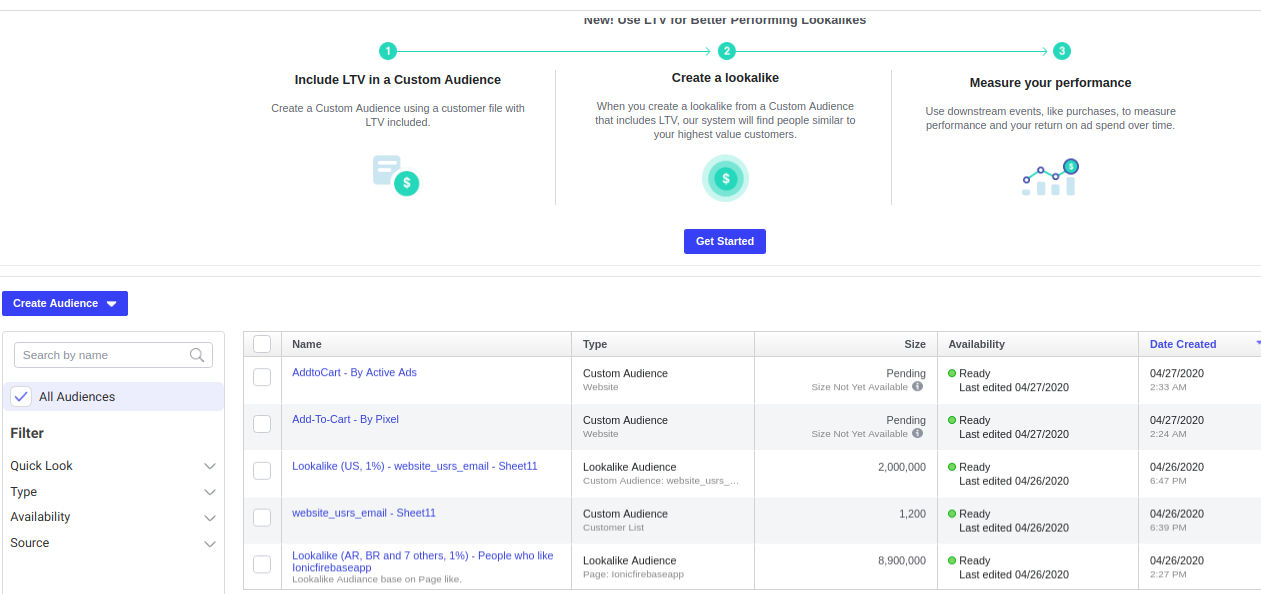 Now here is the guide how to choose audiences that most relevant that worth for your businesses.
Guide for choose Facebook Audiences for your business:
Create Custom Audiences by existing customer do you have:
If you already have your user email id then i suggest you to build an audience through email id that you have with your. Such as user signup email id or subscriber email id. To do that you have to make a .csv file and upload to that. Based on that Facebook will create your audiences.
Note: Please setup you event correctly to remarketing the exact audiences that you would like too. Such as Add-to-cart, lead, purchase etc.
Create lookalike audiences based on Eamil id:
Once your audience create based on email then you can create a lookalike audience while choosing your custom audience. For reference check the image below: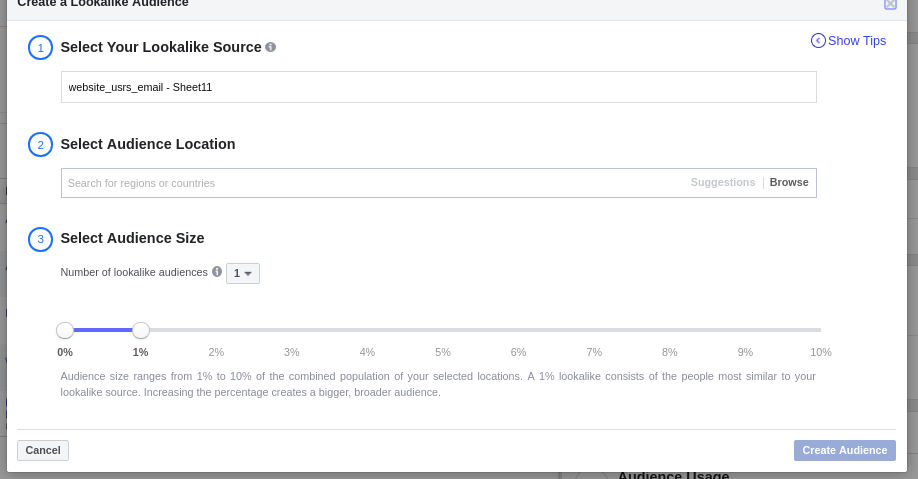 Here you will select your audience from custom one then you can select you location from where you would like to cover then select you the audience size. I suggest you to select 2-4% to reach more relevant one.
Create Facebook page audiences:
Now i would suggest creating an audience with those who have interacted with your Facebook pages that will give you more relevant audience reach for you. To do that just click on create audience and then choose custom one then choose Facebook page. You your reference check out the below images: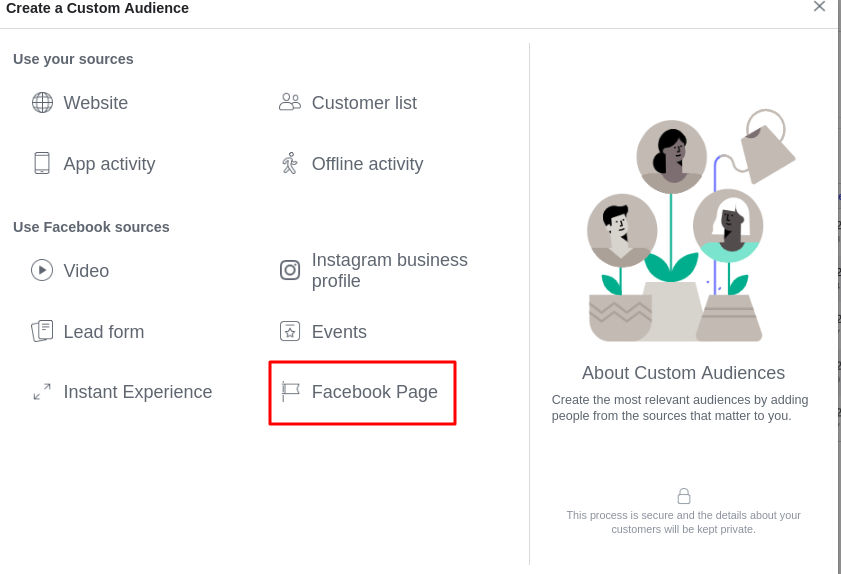 Then choose your page and day when user intract with your Facebook pages.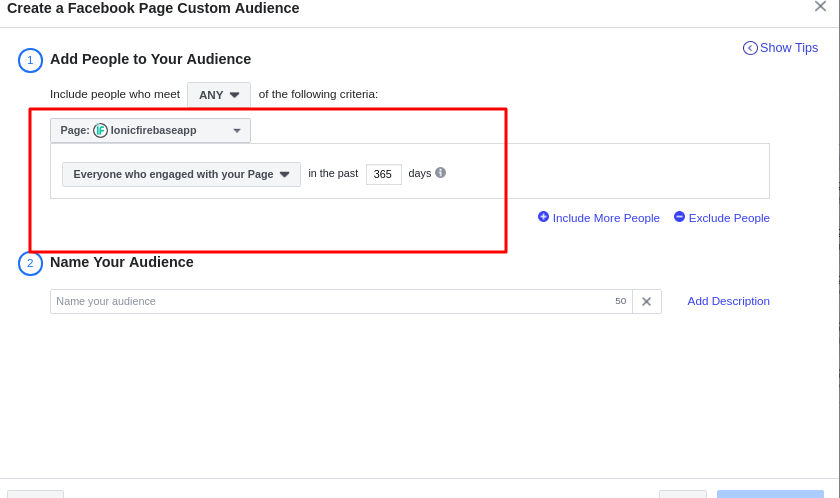 Once your create that then it will show the details of about how many auidence do you going to reach.
Create Lookalike Facebook Page Custom Audiences:
Now, just create a Facebook Lookalike Custom Audiences to reach more people that are very similar to your business niche or target audiences.
Create Facebook ads Audience on pixel data:
Now this important one. First of fall please do setup the events under the pixel that i mention above. Then if you have an eCommerce store then you can create a catalog based on your product that will help you target the exact use base on your catalogs.
For Example: If you have grocery products then you can create catalogs based on your categories and create each catalogs have different set of products. Then you can upload your products from your website or you can enter manually as per you convince. Then you can manage into product set. Create a product set and base on your product categories create product set that will helps to target audience based on exact product categories.
You can see the below images for your references:
First open the Facebook Catalog Manager the hit create a Catalog.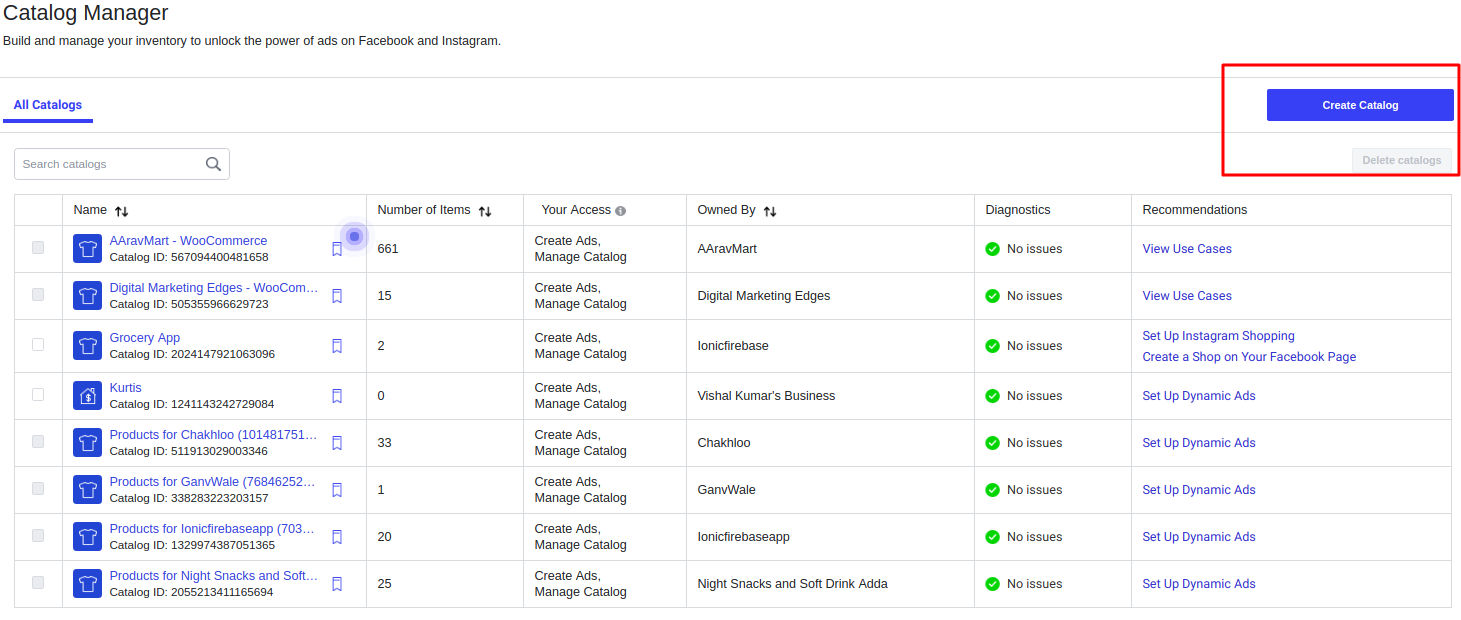 Second choose your categories base on your business. For example i choose here E-Commerce.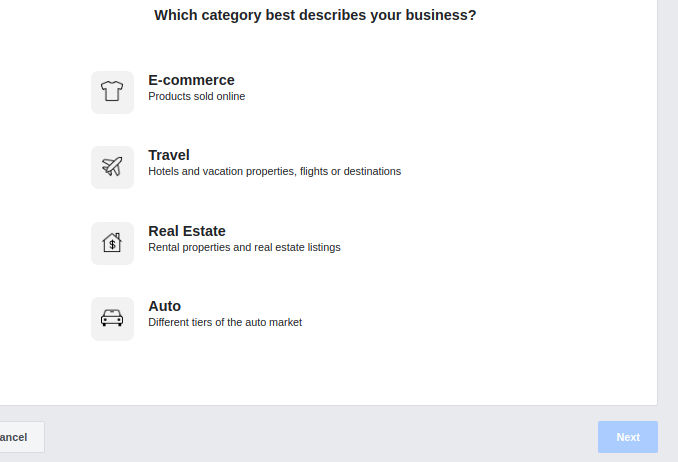 Third, You can upload product and add manual products on this and collect under the product sets to manage easily and run the ads.

Now just click on Event Data Source and connect with your Facebook Pixel to collect your events.
Now you have all set for data and audience. Now just setup your ads. If you have an eCommerce app then you can go with dynamic ads where you can choose your Audiences based on our existing customer we made.
For example: If you only look for a specific customer like those who have signed up with you only that people you would like to target then create an ads then select your custom audience that you have been created from email or website subscriber.
If you would like to build some new users that look like or similar to your existing custom users then you can choose audiences a Lookalike that we created above.
Here is guide i suggest to run:
First create a campaign then setup your ads sets then under that you can create multiple sets of Facebook ads based on audiences we saved. Now keep track of who is performing well and those are performing well. You can keep continuing with that.
Now you can create ads based on lookalike audiences to reach more people. And one ads for a custom audience so you can target the exact users who already interacted with you.
Now let it be run for 4-5 days min to get the some fresh data. Now you got some data based on the events. (Note: Make sure the event setup correctly).
Now create a retargeting campaign based on your the event we get it. Like add-to-cart, initialize check out, Signup etc that you have setup the event. While creating you remarketing ads you can target specific by the catalogs we created. For references check the below image.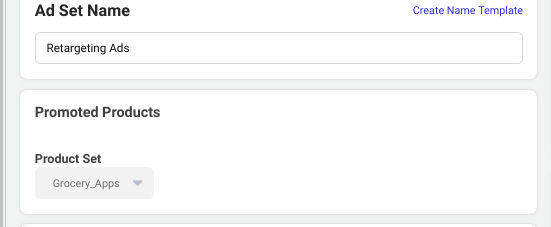 In the above image you can choose on which product set do you like to target to remarketing. It will show all product sets that we created under Catalog Management.
Now Select your Facebook User Audiences that define more best.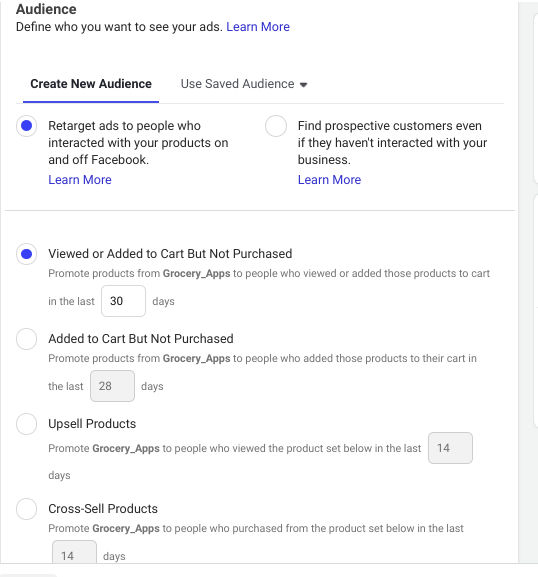 As you can see the option for Audience. If you would like to target with a new Audience then you choose to create a new else i suggest you to go with Saved Audience that we already saved under the Facebook Ads Audiences management.
Now here you will get the Following Option to retarget:
Viewed or Added to Cart But Not Purchased: This Ads will show only those users that viewed the product on that specific catalog or added to their cart but not purchased. By default the day was 14 but you can target as you like. I suggest to keep 28-30 days.
Added to Cart But Not Pruchased: These ads will show only those users/audience those added products to cart from that catalog but did not complete the payment/purchased. You can set the day as you like but i suggest to select at least 30 days.
Upsell Products: This option enables the Upsell product to your user who specifically visits that product set. So suggest creating a new video or details image to drive. You can set days at least 30 days.
Cross-Sell Products: This option helps us cross-sell the product. Means it will show ads of others products that are available on that product catalog to users who already made purchases with you.
Custom Combination: Here we can setup our custom combination we would like to. Like we only want to target who has added their card information or signup/signin with that. Or you can set up whatever you would like too.
This is a short summary to get started with your Facebook Paid marketing and ads. There are lots of things under the Facebook Ads and Paid marketing. You have to keep trying to build your customers and business smartly else you will burn a lot of money. So keep trying with your Facebook paid marketing with exact tracking and remarketing strategies to make a successful Facebook Paid marketing.
Sum up of Facebook Paid Marketing:
Here i tried to cover a short intro about Facebook paid marketing with Facebook Business account setup. We saw how we create our Facebook audiences based on existing users through Emails, Facebook pages and from them how we build Lookalike audiences to reach out more specific users that are perfect for our business. Here we saw how to SetUp Facebook pixel, How to create Event setup with Facebook event tools. Along with Catalogs Management, Products set Management. Last we saw how to play with ads and how we do remarketing with our data source and collection to increase our sales. I hope this might help you a bit to get started with the Facebook paid marketing. If you have any suggestion then let us know or contact us at https://www.ionicfirebaseapp.com/contact